If you've never been to a Steve Aoki show before, OP's Spring Concert is the time to pop your "Cake Face" cherry. We've got ahold of Aoki's contract rider between him and the school, and his requests hint that April 1 is going to be a sweet night on campus.
First we had Oklahoma University give us Jack White's guacamole recipe, but now we have specific instructions for you on how to make a Steve Aoki cake, straight from the man himself.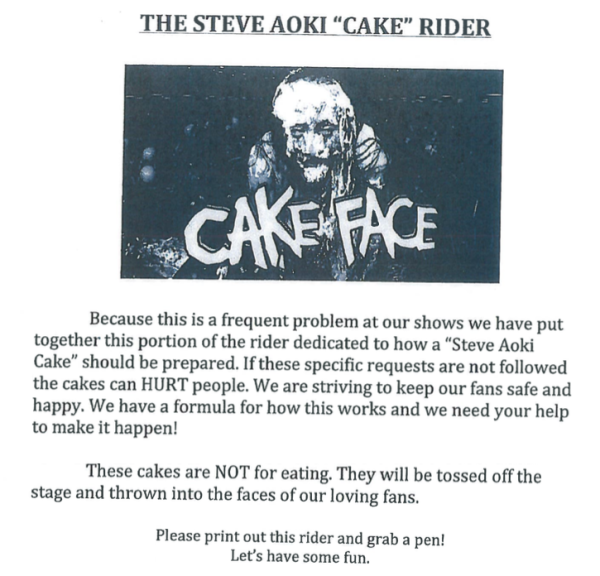 Aoki is famous for throwing cake on his audience's faces during his live performances, but we think you have the right to know if it's chocolate or vanilla. See the cakes in action here. (NOTE: We hope UNF gets these made right, because if not, they can apparently "HURT people." Thanks for watching out, Steve.)
Here are the specific instructions, no ice cream cakes allowed: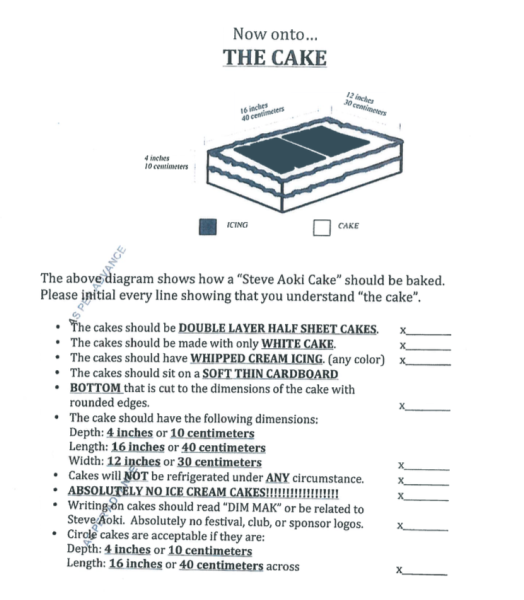 According to an interview Aoki did with Thump magazine, this cake-throwing thing began when the EDM artist was paying homage to Autoerotique's music video for "Turn Up the Volume" below. After watching the cakes in this video explode, Aoki was smitten with their aesthetic and adopted the exploding cake routine for his own live performance.
Here are a couple other interesting points from Aoki's contract rider:
Under the "Performance and Prop Requirements" section of the rider, Aoki asks for three inflatable swimming pool rafts. Looks like he's going for a dive!
Ever wonder what an artist would ask to have in their dressing room? Steve Aoki asked UNF to provide some healthy foods for his green room. He asked for things like soy milk, dried mangos, orange juice and water.
For reasons unknown, Aoki's people added in a courtesy puzzle page at the end of the contract, just after the pages on how to make an Aoki cake. A fun addition to an otherwise serious negotiation.
UNF will be paying Steve Aoki $75,000 for this performance, and will be paying side act Watch the Duck $5,000.
Tickets are free for UNF students with an Osprey1Card, and will be available starting March 9 on the Osprey Productions website.
—
For more information or news tips, or if you see an error in this story or have any compliments or concerns, contact [email protected].