Osprey lose close rematch against No. 1 ranked Gators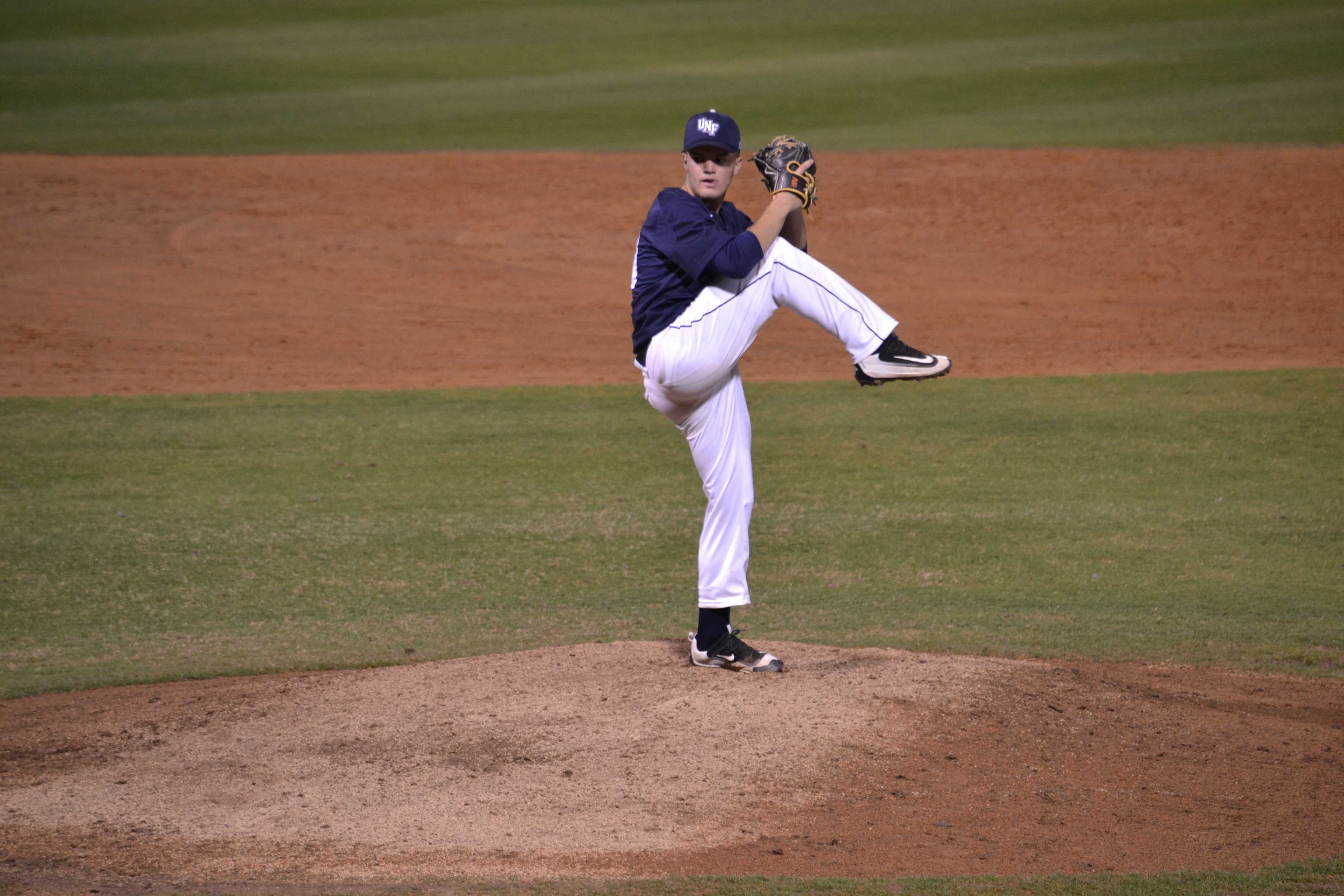 Coming off a 6-2 victory at Harmon Stadium the night before, the No.1 Florida Gators (14-1) looked to defend their home field against the North Florida Ospreys (6-8) Wednesday night.
Despite out-hitting the Gators, the Ospreys lost another close game to the best team in the country.
For the second game in a row the Ospreys struck first, thanks to an RBI single by redshirt senior outfielder Nick Karmeris. The Gators responded however, when UF third baseman Mike Rivera got three RBIs off a triple, putting the Gators up 3-1.
The Gators increased their lead in the second inning, when Florida catcher Mark Kolozsvary hit a solo home run to make it 4-1.
North Florida Head coach Smoke Laval praised the Gators pitching.
"They were very strong on the pitching mound," Laval said. "As a matter fact, in 38 years of college baseball that's the best pitching, and none of these guys are their weekend guys. I'm proud of the way we fought back."
In the bottom of the seventh, Gators designated hitter JJ Schwartz got an RBI to make it 5-2.
The Ospreys battled back in the eighth inning, when designated hitter Corbin Olmstead and first baseman Christian Diaz got RBIs to make it a one-run game at 5-4.
The effort did not go unnoticed by the Gators.
"I give credit to North Florida, they really battled us," Gator pitcher Shaun Anderson said. "They are really aggressive, they put up a good fight, and it's good to play teams like that."
The Ospreys had the tying run on third in the ninth inning, but Keith Skinner grounded out to end the game and seal the 5-4 loss.
The Ospreys out-hit the Gators 10-7, but the Ospreys left seven runners on base and couldn't drive runs home when they needed it the most.
Corbin Olmstead continued his hot streak, going 3-4 with two RBIs.
Osprey catcher Keith Skinner gunned down two of the five Gators trying to steal.
The Ospreys play their next game at home against UNC Wilmington on March 11.
—
For more information or news tips, or if you see an error in this story or have any compliments or concerns, contact [email protected].