The racing Ospreys had an impressive showing during the first outdoor meet of the year on Friday at the UNF Spring Break Invitational at Hodges Stadium, with multiple runners posting very quick, beginning-of-the-season times.
One aspect of track and field that runners know very well and spectators tend to overlook is the importance of a single second. The difference between winning and losing can come down to the tick of one second on your watch. This concept is something the Ospreys demonstrated beautifully last weekend.
The men's 400m race on Friday is where we will begin our examination of the "track second." Senior Desmond Robb opened his 2016 outdoor season with a blazing time of 48.10, earning him fourth place—less than one second off his personal record (PR) of 47.99. This is the hottest Robb has ever come out in an outdoor season, so expect an impressive season from him.
On the other end of the track second was junior Maurice Sapp, who ran just one second slower than Robb with a 49.08—but this tiny, tiny gap was enough to let five runners ahead of him, placing 10th. This is perhaps one of the most frustrating aspects of sprinting, but a promising start for Sapp nonetheless.
The "track second", appropriately warps with distance. In longer events, it is more lenient, but still trips runners up left and right. The women's 1500m run on Friday ended with junior Morgan Rodriguez knocking out a new PR of 4:39.37, which earned her fifth place. Following immediately behind her were teammates Alexis Irwin and Emily Stallings, all one second apart. See how it drags a little slower now? But that track second still has weight. Freshman Emily Kerns was the next Osprey to finish after Stallings with a 4:43.66, good enough for 12th.
The women's 3000m steeplechase event was a huge success for freshman Audrey Carpenter, who placed first in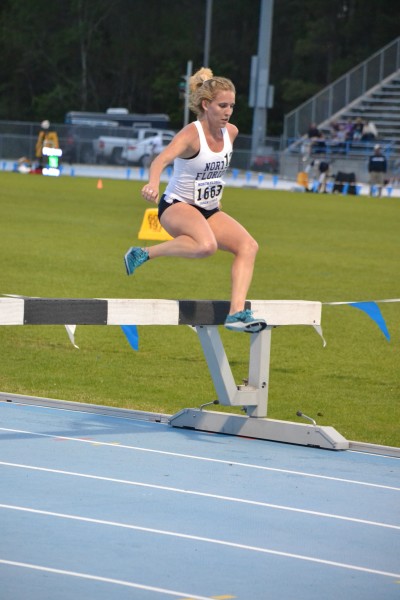 her very first outdoor college track meet with an 11:31.55. In the same second, teammate Kelly Hensley placed second with 11:31.69.
Sophomore Nick Morken finally made his highly anticipated return to the track on Friday after a long battle with an injury forced him to miss this year's cross country and indoor seasons. Morken was a standout freshman in the 8k, 800m and 1500m his freshman year. Of course, he made it an appearance to remember, running an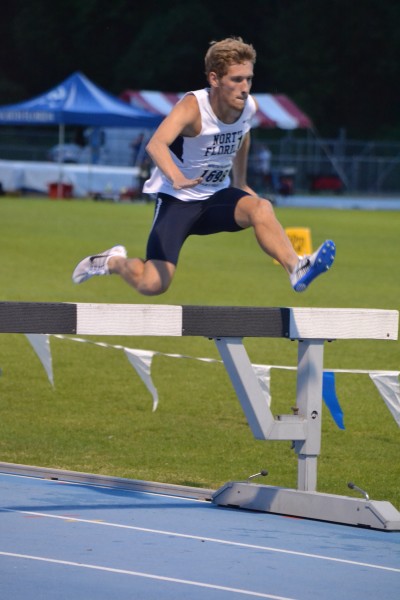 absolutely stellar 1500m time of 3:46.02. The next runner was nowhere to be found until a full five seconds later. If you're understanding the "track second" by now, this should blow your mind.
The Osprey women's 400m team lagged a bit on Friday, but sophomore Hallie Grimes held them together placing sixth with a quick time of 56.87. Teammates Alyssa Younker (recovering from injury) and Carly Jaskulski ran times of 59.53 and 1:05.74 respectively.
In case you missed it, freshman star Logan Poteet, who won several indoor events this season, decided to leave the team and start a new running career at Kennesaw State. This leaves the team in a tight spot for distance events, but Friday proved the boys can still score without him. Morken's victory helped, and freshman Fynn Timm won the 3000m steeple race with a 9:08.57, and Mike Damato took third in the 5000m with 15:08.51. Although this is far off of Damato's outdoor PR of 14:46.72, he still managed to make a great showing for the men's distance team.
Junior Vanessa Philbert secured another win for the lady Ospreys with a winning time of 2:10.70 in the 800m. Philbert's PR, 2:09.56, is less than a second off the UNF school record of 2:09.45 set in 2009. Junior Tayler Johnson's hard work also paid off during the 800m when she ran a new PR of 2:14.05, placing seventh.
The men's side of the 800m run was also successful, and the power of the "track second" kicked in yet again. A difference of .66 seconds between senior Taylor Sumagpang (1:53.04) and Rayford James (1:53.70) was enough time to fit another runner in between them. Sumagpang placed second and James placed fourth in this miniscule amount of time.
Bobby Harris didn't disappoint in the high jump yet again, winning with a cleared height of 6'11''.75. Sophomore Alyssa Young held up the girl's side by getting second place in the high jump with a height of 5'7''. Megan Walker also represented UNF on the field, placing second in the pole vault and clearing 11'11''.75.
Overall, the Ospreys are looking to have a dominant start to an outdoor season. The next outdoor event begins Friday, April 1, at the Florida Relays at the University of Florida in Gainesville.
—
For more information or news tips, or if you see an error in this story or have any compliments or concerns, contact [email protected].