Fool's Gold funk music festival pops off in St. Augustine
On April 1 and 2, the inaugural music festival Fool's Paradise kicked off the funkiest weekend of 2016 in St. Augustine.
Featuring two nights of music from funk powerhouse Lettuce, as well as performances by GRiZ, Chris Robinson's Soul Revue, Goldfish, Vulfpeck, The Nth Power and more, the weekend took students and everyone else on a funkadelic musical rollercoaster.
With only two days of music, Fool's Paradise wasn't here for a long time, but it was here for a good time. Things kicked off Friday afternoon, and didn't skip a beat until the late night shows ended at 2:00 a.m.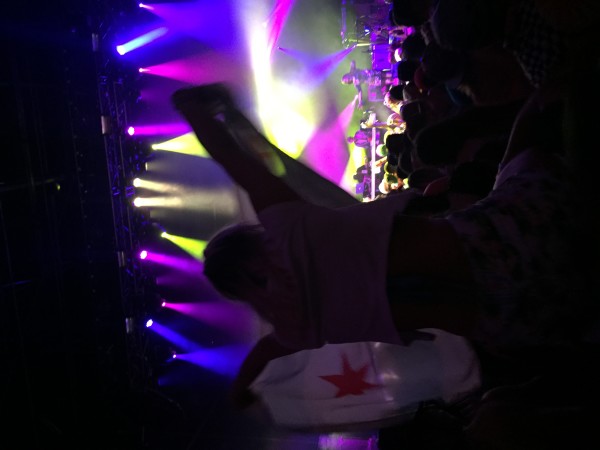 Despite a few rain showers in the evening, Goldfish took the stage and erupted the crowd into what was going to be a nonstop dance party for the remainder of the event. Lettuce then graced the stage and turned the beat up a little higher until Friday night's headliner GRiZ finished the night off.
The young and unstoppable electronic music producer/saxophonist ignited the crowd, playing hit after hit. Although the festival was nowhere near a sell out, the energy from the crowd made it feel like you were in Madison Square Garden. There was an even exchange of energy from stage to the crowd. It was a nonstop dance party, and when GRiZ wasn't playing his funky bangers, he was mellowing the crowd out with his sensual and intimate saxophone. GRiZ, a true pioneer in today's class of musicians, was nothing short of unfunkingbelievable.
Lettuce then came back on stage and played for the last few songs of GRiZ's set. For the first time in both Lettuce and GRiZ's history, the two funk legends joined together to play all live music—no computers. A band who has been apart of the music scene for over a decade, and an up-and-coming music producer who went from playing in the afternoon at festivals to headlining them joined forces to put on a once-in-a-lifetime performance right here in North Florida. They even covered OutKast's famed instrumental song SpottieOttieDopaliscious.
But it still wasn't over. Not only was there a whole new day, but Vulfpeck and Break Science still had performances at the Elk's Lodge right next door to the venue. The crowd was still on a high from earlier, so the energy simply carried over to the after shows. Finally, after two phenomenal performances the late night shows were over and it was time to get some sleep before the final day of funk music.
Orlando based band The Groove Orient got things going on the stage set up in the parking lot. Things didn't fully get going until soul group The Nth Power took the stage and left the crowd feeling really smitten. Vulfpeck then took the stage for their second performance of the weekend and, as if the weekend wasn't entertaining enough, included a wedding on stage.
With just two more performances left before another round of late-night shows, the crowd was really feeling it. If you looked around, people were either dancing or smiling, but most of them were doing both. Chris Robinson's Soul Revue took the stage, which turned out to be a star-studded ensemble including members from other bands performing at the festival. After grooving on stage for over an hour, it was time for Lettuce to come back out and finish things off with a bang.
Lettuce reeled the crowd in right away, but unfortunately had to release them after about an hour and a half. The late-night shows included another performance by Goldfish and a Fools of Funk Supergroup. There were also a few late night shows at local bars within the St. Augustine area.
In just two days, this inaugural music festival provided a non-stop dance party, a once-in-a-lifetime (and one of a kind) collaborations and a whole lot of saxophone. I'm glad I was able to experience such a wonderfully curated event that boasted not only the integrity of music in our generation, but the city of St. Augustine as well. The only question now is, how many more days until Fool's Paradise returns?
—
For more information or news tips, or if you see an error in this story or have any compliments or concerns, contact [email protected].