Connecting writing and people at Jax-Lit
Sparks, passion, and togetherness has Jacksonville bubbling over with renewed life. UNF held the first Jax-Lit celebration, a "Word by Word Reading Series" April 8 at the Gallery of Art. Local authors were present, along with editors from several of Jacksonville-based literary/art journals and magazines.
Immediately entering the gallery, one could feel the energy of the packed room. Some of the attendees were standing or sitting on the floor. Many of them were young, possibly writers who desire to be in creative and supportive spaces.  Mark Ari, the event-coordinator and well-known English professor at UNF, opened the event with "Look around the room, this is your community. It's not competition, it's a group of people who come together to show our work and help each other."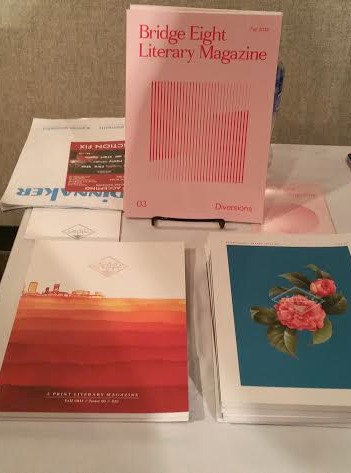 The evening began with readings by local authors Tim Gilmore, ReaJeana Brooks, Jason Dean Arnold, Hurley Winkler, and Ira Sukrungruang. Ari introduced local editors, followed by the editors speaking about their publication. They would then introduce the next reader. Each person graciously spoke about the other with admiration.
Editor-in-chief of The Talon Review Georgie Salzer, introduced ReaJeana Brooks, one of the student authors they published.
When asked what Salzer has learned from being part of The Talon Review, she replied, "This school is not a traditional university, it's not as old, so there's not the same camaraderie feeling that a lot of people have, like in school spirit."
But she said that the Talon Review works to publish pieces written by UNF students and alumni and that there's a unity at UNF that she didn't know existed.
The editors' panel portion began after the readings. Ari kicked off the discussion asking, "Why is this movement with the writing community happening now?"
Bridge Eight publisher Jared Rypkema answered, "Sparks have always been here. Now, there's a lot of different entities in Jacksonville that's pushing into a more cohesive experience."
Tim Gilmore added, "There's not just people in different parts of town, but there's an awareness that different parts of town are doing exciting things. There's a lot of creativeness going on here, a gracious group of people."
Editors mentioned that geography for Jacksonville creatives was a burden for the movement. Perversion co-owner and creative director, Carl Rosen, noted Jacksonville's detachment in the creative community, "But now diversity is being dismantled by things like social media."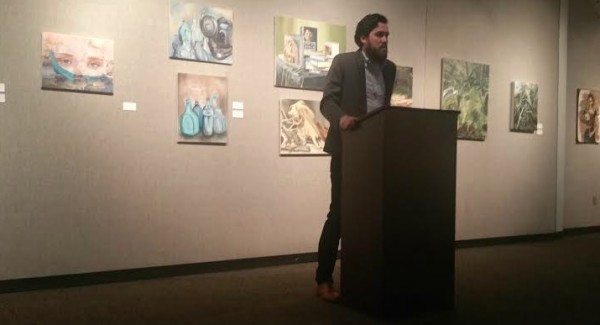 Ari then responded with a follow-up question: "How do we get to the next step?" One answer was to tackle Jacksonville's shortcomings when it comes to maintaining longevity on projects.
The panel's overall response ended on a positive note, which remarked that Jacksonville has a great audience.
Gina Olson, a sophomore English major, was impressed with the readings.
"There was a lot of variety," she said, "and now it makes me want to buy every bit of writing and look into all the magazines."
Graduate student in English, LollyAnn Garcia, also had a similar reaction. "I really love it because it brings people together, and the literary scene here is just glowing right now. So, these events just brings this kind of connective-ness in Jacksonville, which I think is great."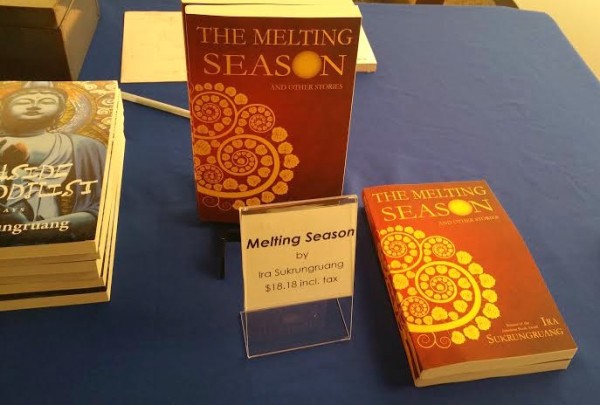 The backbone behind Jax-Lit was to bring people together to celebrate the dynamic literary community that has erupted in Jacksonville. No one may have known what to expect at the celebration, even Ari.
" I just want people to know each other and to meet some of the people who are doing incredible things around here…Bridge Eight, Fiction Fix, Perversion."
Jax-Lit served to exemplify an event that provided a space for learning, creative, and good writing.
—
For more information or news tips, or if you see an error in this story or have any compliments or concerns, contact [email protected].