Beach Volleyball Team Looks to Add Facilities
UNF's beach volleyball team is hoping to expand practice facilities by installing three sand courts in the grassy area behind the softball fields. The team recently wrapped a successful 2016 season by winning the Atlantic Sun Championship for the fourth time in the five years.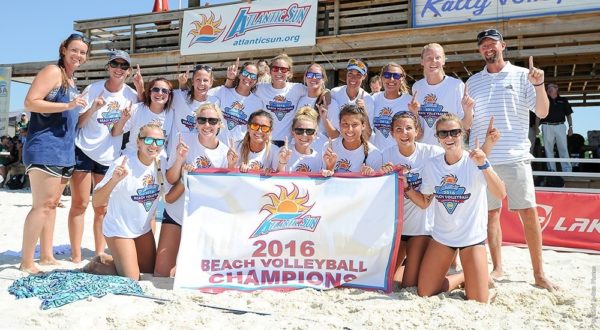 Currently, UNF is the only team in the A-Sun Conference without the facilities to host matches, and Head Coach Steve Loeswick is trying to change that. He believes adding the sand courts would help boost school spirit on campus.
"The project would help our program, the athletic department and potentially the other students," said Loeswick. "I think it would draw a lot of people, I think its an interesting sport and it's nice to be outside."
Before anything can happen, the project needs to be approved by the university and Environmental Health and Safety.
If the project is approved, Loeswick said the team will be responsible for raising the $500,000 needed to build the facility because the university doesn't have the budget for the project.
Loeswick said the team is relying on outside donations and the fundraising arm of the athletics department to raise the money. He said if there is a large enough donation there is the opportunity to name the courts after the donor.
Spinnaker will continue to follow the story and update when more information is available.
—
For more information or news tips, or if you see an error in this story or have any compliments or concerns, contact [email protected].