Review: Beech's NBA summer league stint
Beau Beech flanked his point guard as he sprinted down the court after forcing an errant shot on defense. He stopped just behind the three-point line and called for the ball with the confidence of a five-year veteran on a million-dollar contract. Without a dribble, he launched a looping missile over the outstretched arm of a Cavaliers defender for his fifth three of the game. The crowd came alive for the first time with an explosion of cheers, and the Cav's coach called a timeout to stop Beech's momentum.
It was a moment Osprey fans experienced at UNF Arena countless times, and it was the last shot Beau would take during the NBA's Las Vegas Summer League Tournament.
Beech saved his best performance for last, scoring a tournament-high 15 points and pulling in seven rebounds during the Brooklyn Net's 91-83 loss to the Cleveland Cavaliers Saturday in the tournament quarterfinals.
I heard Beau Beech is ballin in the summer league ?? #Swoop #UNF

— Ryan Davis (@bigdavis813) July 17, 2016
"That's how I feel I should play almost every night, I should have those kind of numbers every night," Beech said. "I needed that to level out the past three or four games I played, so, it was a good one to end on."
In five games, UNF's second all-time leading scorer got 95 minutes and 8 seconds to showcase his talent against the county's best basketball players for an opportunity to become the first Osprey in school history to play in the NBA.
A month before the tournament, Beech emphasized the need to "flash", and make hustle plays scouts will remember. While he certainly flashed his talent, consistency was the tougher challenge.
In his first and last game, both against the Cavaliers, he played vintage Beech ball. He scored 25 points, went 7-13 from three, hauled in 12 rebounds and shot over 50 percent from the field. At his best, he drained shots in the face of defenders, stopped on a dime to launch pull-up threes without a thought in transition, and was 6 foot 9 inches of animated energy.
BEECH @BrooklynNets @NetsDaily @TheBKGame pic.twitter.com/4XNJQxxWNh

— Oruny (@OrunyChoi) July 9, 2016
But in between all that sizzle, there was a 180-degree flip against the Atlanta Hawks and Philadelphia 76ers. Beech looked like a shell of himself in these games, scoring just six points with five rebounds. He shot an abysmal 14 percent from the field and missed all nine three-point attempts. After a cold start against Philadelphia, Beech's confidence waned and he began to hesitate and pass up open shots. He wasn't playing Beech Ball.
After the Philadelphia game, Beech talked on the phone with the coach he's been training with, A.W. Canada.
"I wasn't in that killer mindset, and I had a good talk with him and that changed," Beech said. "My growth over the next two years as a professional will be having that mindset that I'm going to dominate, I'm going to do exactly what I have to do, and nobody can stop me no matter who it is or where it is."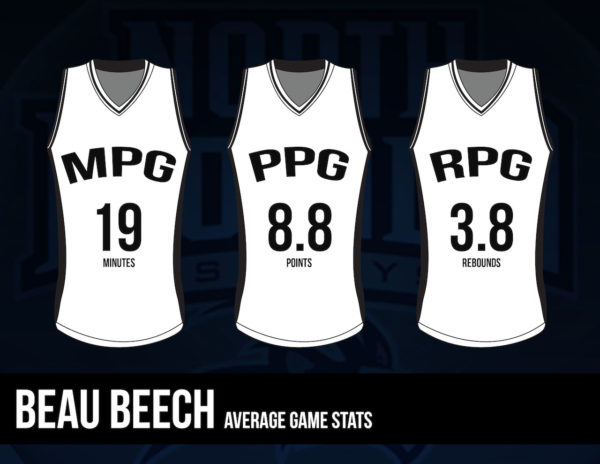 In the game after that talk, Beech made his first three shots from behind the arc and had his best game of the tournament.
Beech claims he wasn't nervous before the first game (I don't believe him), but said he was surprised by one thing – the support he got from the people back home. He said strangers and people he hadn't spoken to in months reached out to offer him support and encouragement.
"It's just a great feeling because that's the kind of family that UNF is and UNF will be; people care about you, and people want to see you succeed," Beech said. "There's good people all around UNF, in athletics and outside of athletics, they're great."
During the five-game span, Beech said he gained 200-300 followers on Twitter. People across the country noticed the silky shooter with the awesome name.
Beau Beech may be the best name at summer league.

— Jessica Camerato (@JCameratoCSN) July 14, 2016
Best call of summer league ever "in the words of Lil Wayne, life's a beech and Beau is just playing in the sand" amazing I love it @ESPNNBA

— PJ North (@OfficialPJNorth) July 17, 2016
Beech will spend the remainder of his summer in Dallas, working out 2-3 times a day, waiting for the next call. He hopes his performance will earn him a roster spot with a team during training camp before the regular season.
"It's a road less traveled for a lot of players, and it's fine by me," Beech said. "I've got to be ready, I've got to be prepared to seize my moment."