The Evolution of Twisted Tuesdays
Colorful clipboards, old school plushes and terrariums in mason jars are just a few of the activities the Office of Campus Life has used to engage students on campus.
Campus Life hosts Twisted Tuesdays throughout the year —  twice during the summer and every week during the fall and spring — as part of their weekly event series.
The department launched the initiative in Fall 2015, as "Tuesdays With a Twist," featuring vendors to craft unique items for students. According to Courtney King, the assistant director for Campus Life, it didn't make financial sense to continue the trend.
"The DIY's are actually much more cost effective than last year when we were having vendors come in and having them do their own artistry and create," King said. "Since a lot of these are DIY and we're ordering it from Amazon, we've been testing them out to make sure that what we're ordering online is actually good quality."
Students at Summer B's Twisted Tuesday, as it is now known, said it took anywhere from 15-50 minutes to create an original clipboard design, which is another reason why Campus Life rebranded their initiative.
"Something that we did notice last year from survey feedback and just observing the event is that a lot of the things the students enjoyed leaving with, but it kind of lacked that interactive component and there were a lot of lines," said King. "Some of them that we've tried out, we will get about 30 — I think we did that for one of them — all the way to about 200 [attendees]."
Spinnaker stopped by Osprey Plaza on July 19, to see how students have responded to the change. Every student interviewed, coincidentally, was a freshman; a nice according to King.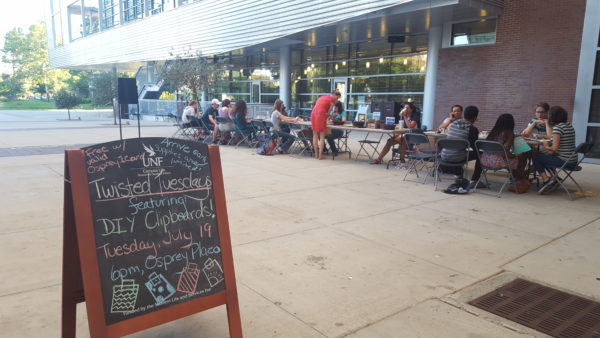 "We had, I believe, around 40 [attendees] and a lot of it was new students," King said. "Which was pretty exciting that they heard about it and were interested."
Chatter filled the tables, and after interviewing students it was evident this event helped freshman form some campus connections.
"People like me who are really having a hard time talking to people and things like that, it gets me to interact with people," said Sara Gonsalez, a freshman chemistry major. "And that's good because, you know, it kind of sucks being lonely at college."
King said Campus Life sees students from every point in their college career during the fall and spring semesters.
"What has been interesting about this summer is, it is more the ones who do live on campus," King said. "But throughout fall and spring, we do start noticing students who say, 'Oh, well I just got out of class. Perfect timing,' and are coming by the food court to grab food or head up to the Boathouse."
This irregularity makes it difficult for Campus Life to track trends. They created a quick survey for students to fill out to help them with this.
"Last year we did introduce having the iPad survey so that way we did have an opportunity for students to provide input and give feedback on the ones that they had participated in," King said.
"The majority either like it or love the event," continued King. "We did have somebody who attended every single one in the spring semester."
Students can expect to see Twisted Tuesdays in the Osprey Plaza on a weekly basis after the Week of Welcome, which kicks off the fall semester from August 19-28.
—
For more information or news tips, or if you see an error in this story or have any compliments or concerns, contact [email protected].