Lot 7 closed for maintenance; Skinner-Jones Hall to be under construction until Spring 2018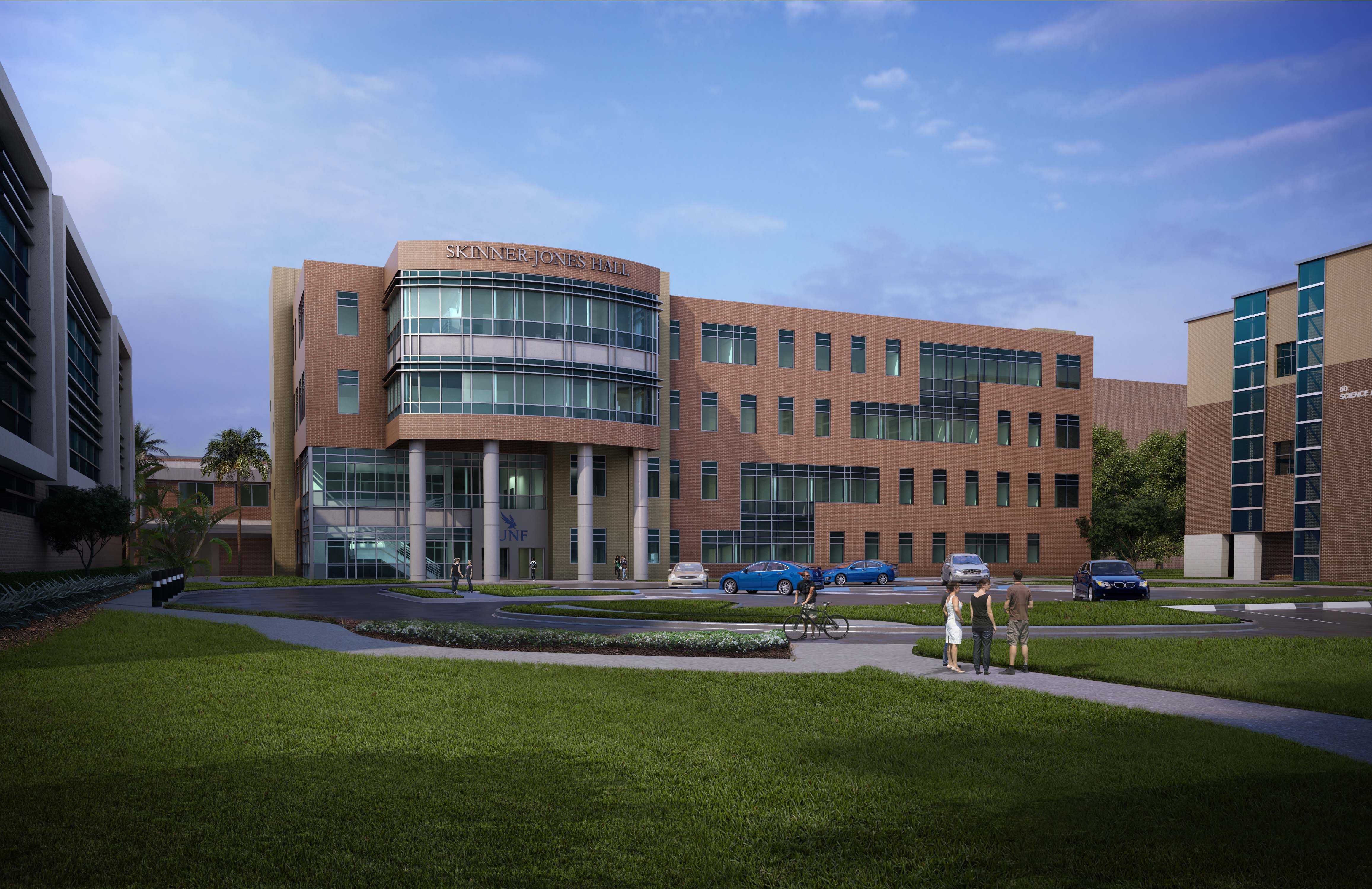 Lot 7, the parking lot wedged between the engineering building and a shuttle stop, will be closed for maintenance for over a year, as Skinner-Jones Hall is under construction.
Skinner-Jones Hall is getting a makeover for the first time since it was a part of the university's original infrastructure in 1972. Parking Lot 7 is currently serving as a place to store the building materials needed to complete the project.
In March, Spinnaker reported that UNF received $11 million in funding to complete the Skinner Jones renovations, after an initial clerical error denied the school the state funding. The Skinner-Jones Hall project cost $29.7 million and received funding over the past two years.
Otherwise known as buildings 3 and 4, the renovation of Skinner-Jones Hall will combine the two buildings together and completely renovate the inside. New additions to the building will include a fourth floor and a new entry lobby, according to UNF Public Relations.
Funding for the renovation amounted to $30 million approved by the Florida Legislature from the Public Education Capital Outlay fund, a program dedicated to funding "public higher education construction and maintenance projects."
Zak Ovadia, director of university facilities planning, said that Phase One of the project will be completed in December 2017.
"What we're seeing now is Phase One which is the gutting of Building 4 and the extension of Building 4," said Ovadia. "Phase Two will be the gutting of Building 3 and renovating."
The closure of Skinner-Jones Hall means that no classes will be held in buildings 3 or 4 and that classes will be relocated for the time being. According to Ovadia, classes should begin again in Skinner-Jones Hall in the Spring of 2018.
Until then, parking spaces in Lot 7 will not be available besides the President's parking space and spaces for his guests.
The only inconveniences the renovation poses for students is in walking through campus.
"[There is] possibly a little inconvenient for the people walking through campus who will have to walk around Building 3 to walk through campus," Ovadia said.
In addition to these upgrades to Skinner-Jones Hall, the School of Engineering and the Department of Construction Management will occupy nearly 65 percent of the finished Skinner-Jones Hall. Previously, the department's occupation on campus was split between the first floor of Building 4 and a portion of the Science and Engineering Building.
According to UNF Public Relations, this move out will allow for more space for psychics and chemistry. The Physics Department is expected to gain about 17,000 square feet and the Chemistry Department is expected to gain about 15,000 square feet.
"We have outgrown our space. The added space will allow us to set up teaching labs, research labs, faculty offices, a machine shop and a semiconductor cleanroom. We will have room to grow," Dr. James Garner, physics department chair, said in a press release.
As of right now, Ovadia expects that the project will be finished on time and ready for classes in Spring 2018.
—
For more information or news tips, or if you see an error in this story or have any compliments or concerns, contact [email protected].