Jacksonville Sings aims to recruit students to UNF

Jacksonville Sings is a unique three-day event offered by UNF's School of Music that brings aspiring high school choir students to campus and provides entertainment for the rest of the college community.
Dr. Cara Tasher, Director of Choral Studies, created it six years ago to introduce our campus to kids around the state. Her goal was to create a program different from other universities.
"Anytime somebody gets to our campus they usually say, wow, I love this place, I didn't know about it, I want to come here," Tasher said.
Tasher brings her current choir students in to help lead the high school students. There are 30 collegiate singers who will help for the three-day program that have been in training for the event since July.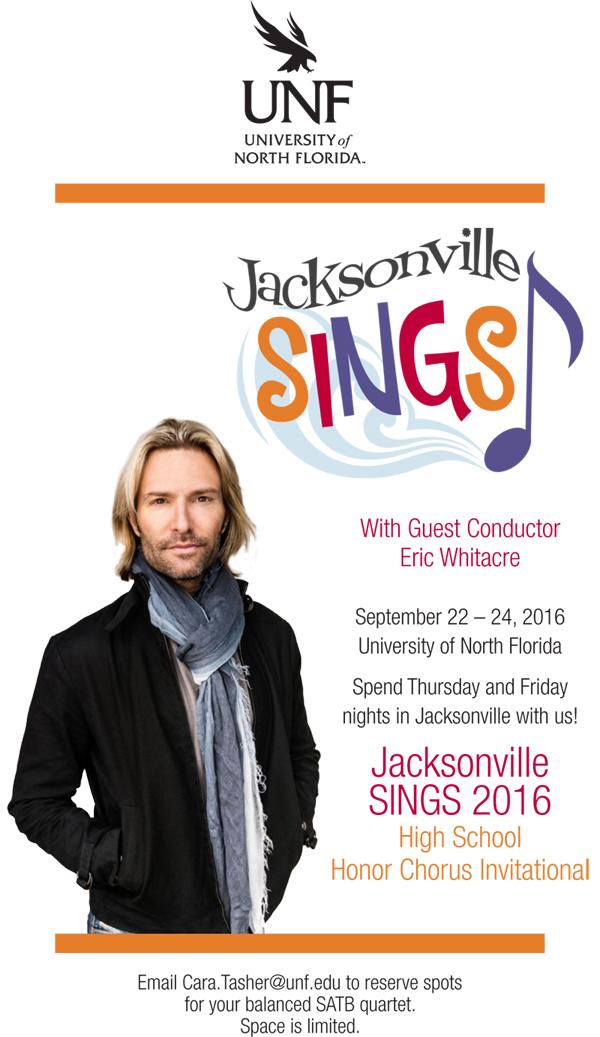 The UNF students will set up private receptions for the high school teachers, lead the high school students in coming up with a section song, or lead icebreakers and other fun activities.
She also wanted to introduce the kids to talent from around the world by inviting a world-class clinician each year. A clinician is someone who is invited to come work with a group of people to inspire and teach them new music and ways of learning.
This year the clinician is Grammy-winning Conductor Eric Whitacre. Tasher said the idea for Whitacre to come to UNF was made years ago.
"I draw upon all of my contacts in the field and I cultivate the idea of 'oh maybe sometime you could come be our clinician,'" Tasher said.
Jax Sings is different from other universities' choir programs because it teaches students leadership skills and team building.
"Not only are these high school kids coming and learning wonderful musical techniques and new repertoire and working with the composer on the music that he wrote, but they're also becoming better human beings," Tasher said.
One previous Jax Sings participant turned UNF student, Megan Hines, a music education sophomore, believes the event really does influence students to come to the university.
"I got to talk to Dr. Tasher after the concert and it was just so cool to have that one on one experience with a faculty member that you don't get at bigger schools," Hines said. "That was one of the moments where I said this is a really great place to be because people actually care about you here."
—
For more information or news tips, or if you see an error in this story or have any compliments or concerns, contact [email protected].