Doing the math: The cost of college
Video by Jack Drain and Joslyn Simmons
Did that refund hit today? When is that assignment due? What can I afford to eat for dinner?
College is a balancing act for students who work part-time, attend college full-time and are still learning how to be productive adults. The question is, "What is the cost of all of this?"
This generation's students cannot expect a minimum wage job at a restaurant to meet their cost of living, but they can't afford to go without one either. Students who work 15 hours each week at minimum wage will make $1,932 before taxes in one semester. After paying for housing, meal plans, books and credits, Ospreys will find themselves $6,626 in debt.
Tomia Hayes, a health administration junior, works between 16 and 20 hours a week as a student fundraiser on campus and is taking 12 credit hours worth of classes. She has two scholarships which cover her cost of attendance, but she works so she can pay for living expenses.
"[Part-time employees] are suppose to pick three shifts," Hayes said. "But I try to work more just because — well, because I have an apartment."
Spinnaker planned to sit down with Hayes for an interview on a Monday, the only day she had a break in her busy schedule, but then she started having car troubles.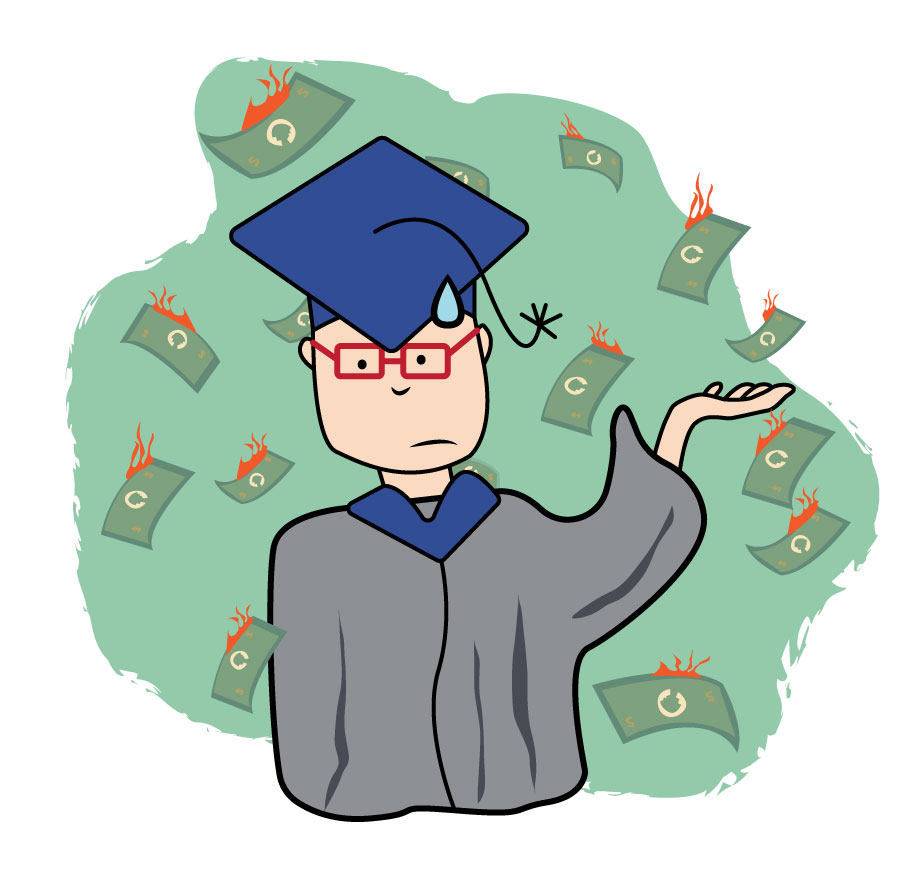 "I will figure it out," Hayes said. "I think I know what part I need, so I am going to try and get that figured out today."
Her story is similar to many across the country. Ask the student sitting next to you in class. The response may not be a monetary amount, but it could be the cost of putting school before yourself.
Nubar Baroutjian, a biology junior with a minor in psychology, works as a baker on the weekend. His family pays out of pocket for him to attend college. He said having a routine is important for success in college.
"An average day for me: awake by 7:30 at the latest no matter what time my class starts. It's just a habit to get up at that time," Baroutjian said. "Makes things easier to get your day started."
He also believes that sometimes saying no is important to stay on track.  
"When it comes to balancing social life, you need to know when to say no," Baroutjian said. "You need to have the will and the ego to put aside. Say, 'I don't need to go out this weekend,' or, 'I have more important things to do, than, you know I guess relaxing.'"
For some students, balancing it all involves planning.
Ezekiel Juego, a Physics junior with a concentration with a electrical engineering, works 15 hours a week with UNF's club Asian Students In Alliance (A.S.I.A.) Between work and classes, he doesn't have hours left in his schedule to just go to the movies or a party on the whim.
"I don't really have a social life, but I do work like three hours a day for a week, so it's not too bad," Juego said. "But I also have set a time for schoolwork and all that."
Juego was awarded smaller institutional scholarships to counter what his family pays out of pocket. Juego told Spinnaker he lived on campus his freshman year because of the mandatory housing requirement, but he chose to live at home once he satisfied it.
"It's nice because I [reside] at home, so I can talk to my parents and have a nice place. I can just, like, chill," Juego said. "But also the course load for school and the club is pretty rough.But like I am managing it, so it's pretty good. I'm still getting used to it, but it's okay."
From long hours at work to piles of assignments, managing it is a mantra that any student can relate to. Hayes, Baroutjian and Juego prove that succeeding in college is more than hitting the books. It's working hard to balance it all — a skill not only important in college but in life.
—
For more information or news tips, or if you see an error in this story or have any compliments or concerns, contact [email protected].