Preview: Ospreys could return to March Madness depending on non-conference games
The 2016-2017 basketball season officially kicked off Nov. 11, when the men's team lost to Auburn University. Here's a look at what this year's team brings to the table and who they have to face.
Record
Last season, North Florida finished 22-12 overall and 10-4 in the conference. The Ospreys are looking to improve this record with the comeback of redshirt junior Romelo Banks on the court. The center's 6-foot-11 frame is the presence the team needs for defending the paint as they face competition from the Power Five conferences early in the season.
In comparison to last year's team, this team is longer, bigger and more athletic, according to head coach Matthew Driscoll.
Not only do they have many players returning, they have also added an abundance of new talent. Driscoll spoke on losing instrumental players such as sharpshooters Beau Beech and Trent Mackey, as well as ASUN Defensive Player of the Year Demarcus Daniels (55 blocks), at UNF's media day.
"3,700 points have walked out the door. Before you ask me that great question I'm going to let you guys know, we have 3,700 points back plus," Driscoll said.
Starting Five
The biggest to watch out for this season are ASUN Preseason Player of the Year guard Dallas Moore, one of the three starters returning to the court.
"I've coached some of the best guards you could possibly coach, I'm telling you right now. None of them are better than he [Moore] is," Driscoll said. "He is as good a guard as I've ever coached in my life."
Going into his senior year, Moore is on pace for the 2,000-point club this season. The 6-foot-1 left-handed guard averaged 35.6 minutes a game and led the conference in scoring and assists. His play on the court placed him in the national conversation for the Lou Henson Award, which recognizes the top mid-major Division I player for the year. Moore was listed as one of the "7 point guards you can trust in the pick-and-roll" by NCAA.com. Despite the praise and plaudits, Moore returns to the UNF Arena after testing the waters of the NBA Draft.
Joining him will be Chris Davenport, preseason conference team member, who tallied the second-most blocks in the ASUN. Have the phone ready for Davenport's explosive dunks that have featured on Twitter by the ASUN and UNF.
.@cd_ihoop cleans up Dallas Moore's miss w/ the putback slam. Davenport w/ 12 points as @OspreyMBB leads 66-60. pic.twitter.com/zkx3csFxU8

— #ASUNMBB 🏀 (@ASUNMBB) February 12, 2016
He's led the team for three straight seasons. Like Moore, he is a part of the 1,000-point club. Averaging 27 minutes a game, he reeled in 245 rebounds last season.
Romelo Banks was sidelined last season but has returned to reclaim his starting spot and looks like a "man of steel." During his sophomore campaign, he started in all 35 games moving up from being a reserve his first year at UNF. With his strength in the paint, Banks will a threat for other teams who have to face near basket.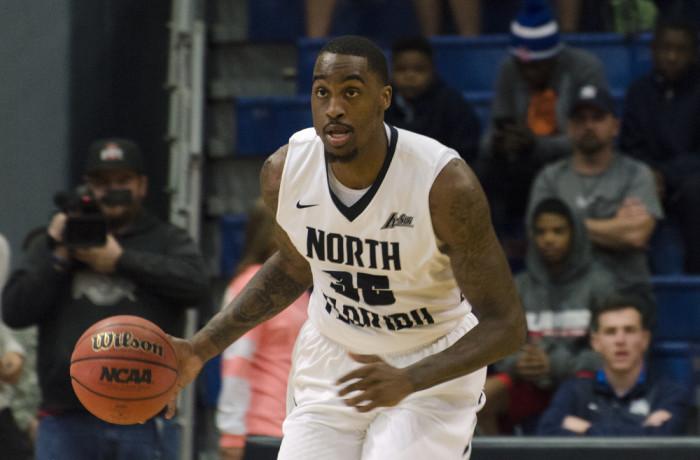 "Not only is he 6'11, but he's playing like he's 6'11. He's not playing like he's 5 foot anymore," Driscoll said.
Nick Malonga, a redshirt junior guard, looks to return to his starting spot for the second year. The 6'4 Bolingbrook native averaged 17.1 minutes a game for the Ospreys. He had a career high of 7 rebounds against Stetson and has the ability to shoot from behind the arc.
Aaron Bodager, a key reserve for the past three years, is most likely going to be the fifth starter. A redshirt senior, he adds to the experience of the team. Last season, he was first in three-pointer with 47.5 percent made. Averaging 21.4 minutes a game, he made a deep shot in 28 games. In 10 games, Bodager connected with at least three from downtown. His hot-hand will definitely produce quick offense this year.
Reserves
This season, the bench will be deeper than last season. J.T. Escobar, a transfer from Ole Miss, is the only player who has to sit out to meet the NCAA transfer requirement. Be on the lookout for returners Karlos Odum and Osborn Blount to come off the bench the most. Odum played in 20 games and Blount played in 17 games. Chase Driscoll played in eight games with 11 minutes for the season.
CJ Fisher, a redshirt freshman, is also very promising for the Ospreys.
"[He] lead the state in scoring as a senior in high school. He's as fast as fast can be. It's hard to say he's as fast as Dallas, you could probably argue that," Driscoll said.
Some new Ospreys to be on the lookout for are junior Aaron Horne, who was the number one small forward in junior college in the state of Florida.
Wajid Aminu, Benedikt Haid, and Garrett Sams are the three true freshmen on the squad that will likely get minimum playing time.
Driscoll said of forward Aminu. "Coming in he might have the best talent package that we've ever recruited."
His older brother Alade plays professionally in Israel and his other brother Al-Farouq plays in the NBA for the Portland Trail Blazers.
Non-conference games to watch for
North Florida's schedule is loaded with Power Five conference teams. By winning these games, the Ospreys' chance to make it into the March Madness tournament increases for the better.
"Most publications said it's [ASUN] the best deepest mid-major league in America,'" said Driscoll. "[This] non-conference schedule is by far…the most difficult schedule that we've ever played.We're playing against several teams like us."
Their home opener is Monday, Nov. 14 at 7 p.m. against Edward Waters.
Two days later, they face Miami at UNF Arena. The Hurricanes were the no. 3 seed in the NCAA tournament, finishing in the Sweet 16 with a loss to the eventual champions Villanova.
UNF takes on LSU on the road on Nov. 18 for a rematch of last season's 108-119 triple overtime loss. With Ben Simmons now a Philadelphia 76er, the Ospreys have a better chance to grab the win. The Ospreys were 51.3 percent from the field against the Tigers.
Before students get too deep in finals week, the Florida Gators travel up the interstate to the UNF Arena for a rematch of the NIT first round. Last time these teams met, Gator nation showed up in full force crushing the Ospreys 68-97. UNF shot only 43.6 percent from the field and connected 36 percent from the free throw line.
Two days later, UNF heads to Syracuse, another ACC foe. The Orange finished its season with a Final Four loss against North Carolina in the NCAA tournament.
Outlook
North Florida is on the hunt for its third consecutive ASUN regular season championship. This season will be a last dance for several and a new chapter for others, as they embark on their run to March Madness for a chance at redemption.
—
For more information or news tips, or if you see an error in this story or have any compliments or concerns, contact [email protected].