Volleyball says so long to seniors
Friends, family and fans all came out on Friday, Nov. 4 to honor the four seniors on the volleyball team, following their win over NJIT.
Head Coach Steve Loeswick spoke on this senior class.
"All four of our seniors are very good leaders and they lead in different ways," Loeswick said.
Carina Hoff hasn't played since Sept. 3 with a hand injury.  During her eight games this year Hoff had 100 kills and scored 111.5 points for the Ospreys.  She was a 2015 First Team All-Conference select last season.
"It's unfortunate with her hand getting injured early in the year," Loeswick said. "Even with the injury she's been at every practice and every match providing some energy and some noise, just some really positive energy from the sideline, and it's great to have in our program."
Hoff is not cleared to play yet, but she is expected to be cleared in time for the sand season.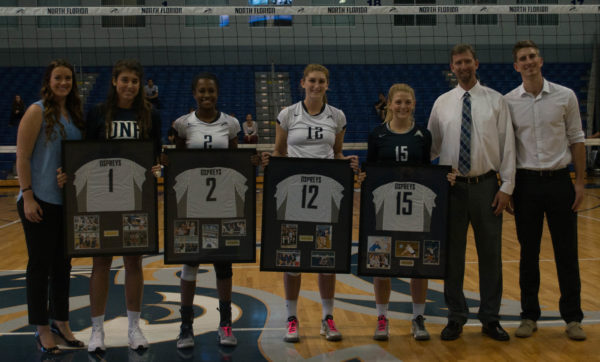 Kimberly Ferguson has dug 312 balls this season for UNF. The health science major is a pivotal force in the backcourt. The defensive specialist has also assisted 53 kills this season.
"She's our loud energetic voice that the team enjoys having around," said Loeswick.  
Erin Edwards has started every match since her sophomore season. The middle blocker has killed 165 balls this season and has 90 total blocks. The Computing and Information Sciences major has scored 210.5 points for the Ospreys during her last season.
"Erin has that intensity and is really passionate about the sport. She's in there watching film and wants to be great, she pushes her teammates to be great," Loeswick said.
Morgan Van Alstine has 163 kills this season. The middle blocker is always invited to the block party. This season alone she has blocked 122, surpassing her record of 111 blocks from last season.  She is now in the top ten for  individual season record. She has scored 241 points during her senior season.
"Morgan is a great player. For the most part she's pretty quiet, but she leads by her work ethic. Coming in every day and really pushing to be the best that she can be," Loeswick said.
—
For more information or news tips, or if you see an error in this story or have any compliments or concerns, contact [email protected].