Transgender Day of Remembrance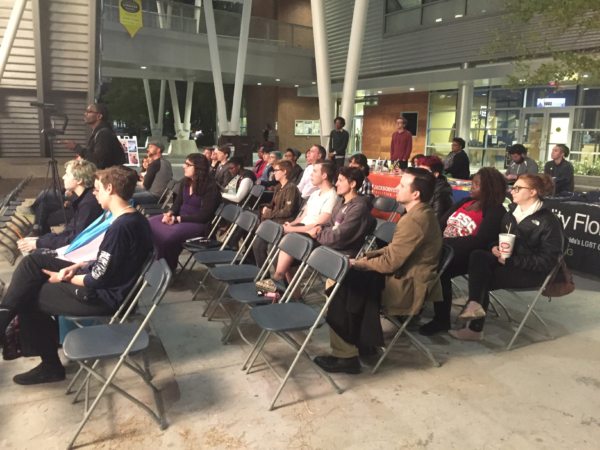 Transgender Day of Remembrance is on Nov. 20, but UNF celebrated it early, gathering in the Student Union Wednesday, Nov. 16. The ceremony remembered all those who have lost their lives to anti-transgender violence through a candlelight vigil and moment of silence.
This was UNF's 3rd annual Transgender Day of Remembrance, and it was centered around a message from Dezjorn Gauthier, transgender model and business owner. His message was one of empowerment, opening with the statement "you are beautiful," and maintaining that uplifting nature throughout the speech.
Emotions were high as the small crowd outside the Student Union listened to Gauthier's speech. He spoke directly to the crowd, sometimes stepping in front of the podium to address people directly.
He spoke about the fear people have felt since the election. Gauthier, who is a law student at Washington University in St. Louis in addition to modeling, told people to not be afraid, and that the government is made up of three parts for a reason.
"The executive branch can only do so much. Do not be afraid, this country has overcome many different presidents and movements," Gauthier said.
UNF student Natalie Vesely, sophomore, Political Science, said she knows a lot of people that have been very emotional since the election.
"It's really like a 50/50 where you're like, well Trump has said some of these things that aren't okay, but then a lot of people are like, well I don't know if he will do it; I think that's where a lot of people are scared," Vesely said.
Gauthier said that the transgender community must move forward peacefully as one. He encouraged the crowd to stand up- to do things like vote, write, and reach out to politicians to make their voices heard.
Monica DePaul, UNF alumni and adjunct English professor, is one of the only transgender instructors on campus. She said this has been a hostile time for trans people but praised UNF, saying that " it's [UNF] definitely led the charge over the past several years of being all inclusive and being a welcoming environment."
The event, with reactions like DePauls and the words from Gauthier, left attendees with a better sense of community and solidarity.
—
For more information or news tips, or if you see an error in this story or have any compliments or concerns, contact [email protected].