UNF alum creates sound art piece with changing meaning
You've probably seen the 70 or so walkie-talkies dangling outside the UNF Gallery of Art. UNF alum Erik DeLuca started building the piece Monday, Nov. 14, by taping walkies-talkies to the ceiling.
The sound morphed as time passed. On Wednesday, the sound was frenetic as the senders and receivers bounced off each other chaotically. Thursday, the sound sputtered out to where only ten or so could be heard. Friday the sound was hauntingly uniform.
Students walk by, stared and some asked DeLuca questions.
"Some say it sounded like bees, one person said surveillance. Another said, 'This is the most annoying thing I've ever heard, can you take it down?'"
One student notices the sound sculpture and asks, "What does it mean?"
"I have no idea, you have to figure it out for yourself," DeLuca shrugs.
He creates "sound art" in public spaces. He's made installations with old electronics like alarm bells, tape decks and piles of discarded phones. He's had essays published in the MIT Press and Cambridge on sound theory and he's a composer as well.
But this is first time back at UNF since he graduated in 2007.
"It's so nostalgic to be back here."
One of the major themes of the piece is nostalgia because people feel drawn to older technology they were familiar with as children. DeLuca refers to the concept as "technostalgia."
"In a way this piece is technostalgic. When they experience it, they respond to it based on their backgrounds and their interests and cultural milieu," DeLuca said. "That's cool and hopefully people go there and feel free to find out what it means for them."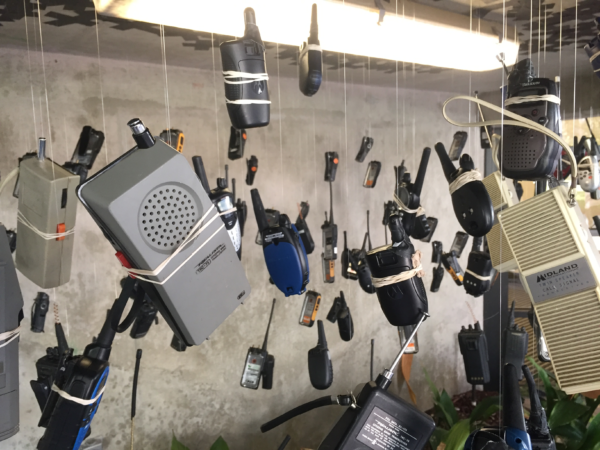 Technology mediates who we are, DeLuca said, and it contributes to the way we perceive ourselves in the world. DeLuca liked old technology, particularly defunct or outdated technology like analog.
"There are no micro computers, no clear strict logic transmitters — it's just receivers and crosstalk through the channel."
DeLuca's is an American-Scandinavian Foundation postdoctoral researcher currently affiliated with the Iceland Academy of the Arts in the capital Reykjavik. He received a doctorate from the University of Virginia and spent time as an adjunct there.
DeLuca refers to his art as a cloud with the cacophony of the devices forming a much larger sound as they build it. Though nostalgia was the initial idea, DeLuca said the divisiveness after the election changed the meaning for him. Since people can interact with him while he's making it, he's considering calling the piece "crosstalk."
"I'm thinking of this installation as a metaphor for crosstalk between different party affiliations," DeLuca said. "I never anticipated that. It's very open as far as its metaphorical life."
Ryan Bell is a graduate student assisting DeLuca with the project. He sees it as a machine.
"It's a machine we can't control. We have to add in new pieces and see how it affects the entire organism," Bell said.
DeLuca and Bell have to constantly adjust the piece.
"The construction is based off the construction that Erik and I have to engage with the piece. At a certain point the piece takes over," Bell said. "It has its demands. It knows what it wants."
—
For more information or news tips, or if you see an error in this story or have any compliments or concerns, contact [email protected].