Men's basketball falls to UConn 80-59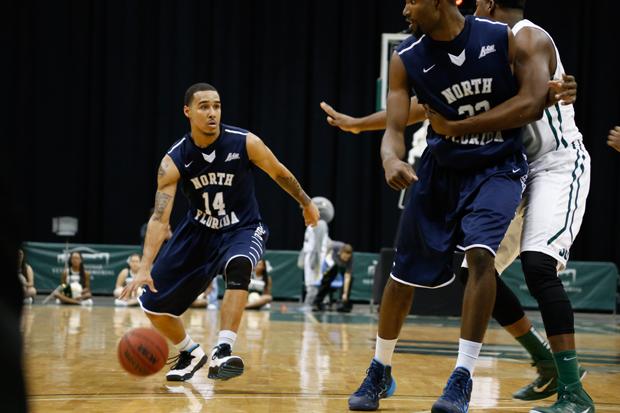 North Florida's (4-10) Power Five opponents have not been kind to the Ospreys. In fact, without the Power Five opponents in their schedule, they would be 4-3 this season.

However the Ospreys still had to go through UConn (5-5) to reach the softer part of their schedule before conference play. Despite only a five-point deficit halftime, the game went about as expected except for a dismal shooting performance from the Ospreys.

The Ospreys only shot 33 percent on the game while the Huskies went off for 53 percent from the field. Senior superstar Dallas Moore wasn't able to continue his streak of 30 points, but managed to lead the squad with 18 points.

Another impressive performance was freshman guard Garrett Sams who more than held his own with 16 points on the game. However,North Florida didn't have the depth or the power to keep up.

UConn out muscled the Ospreys in the paint 40 to 10 and the Huskies bench kept the Ospreys in check with a 22 to 5 differential. However the biggest issue for the Ospreys was the disparity between halves.

The second half saw all the Osprey players besides Sams being held to under five points. Even Moore only accounted for 3 points after halftime.

These factors allowed the Huskies to go on a 25 to 9 run in the final 13 minutes to polish off a convincing 80-59 win. The Ospreys will next hit the road down to Miami to face FIU on Dec. 21.
—
For more information or news tips, or if you see an error in this story or have any compliments or concerns, contact [email protected].