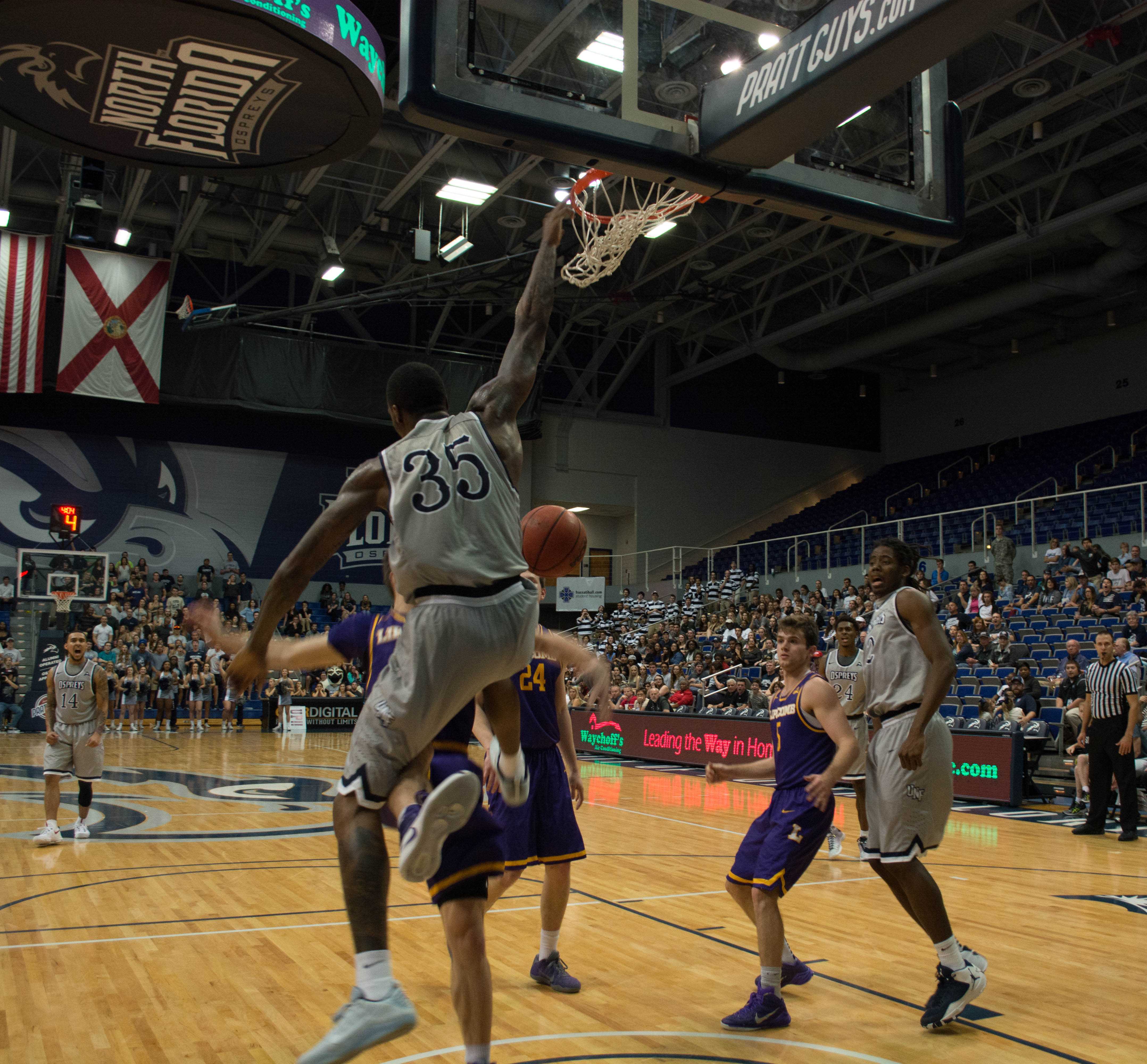 After starting their home stretch with a cardiac win, the Ospreys (9-13 overall, 4-1 ASUN) looked to defend their court against the Lipscomb Bisons (11-11 overall, 3-2 ASUN). And boy, did they ever.
Dallas Moore put on a show to start the game by not only blowing up the scoreboard with fifteen points in the first nine minutes, but flat out toying with Bison guards by showing off ankle-breaking moves. The streak helped North Florida get off to a cozy 25-11 lead.
"I hear what they're calling," Moore said. "I'll jab one way… go back the other way, find layups, find guys, just doing what I do best."
Unfortunately for the Ospreys, when Moore cooled off the whole team followed suit and allowed the Bisons to cut the lead to 5 going into the half. At one point the Ospreys led by as many as 14 points.
The first half of play was a tale of two players. Moore's 20 points were more than the rest of his team combined and Lipscomb guard Josh Williams mustered 16 points. No other player on the team scored more than 6.
Overall the Ospreys simply had a better outing from the field. Their 51 percent including 43 percent from the arc dwarfed the Bisons' 35 percent performance and it resulted in North Florida muscling out a 90-84 win despite several late threes by the Bisons.
Head coach Matthew Driscoll believes his team is better now despite the recent success coming in a softer schedule.
"I think it gets masked in what we had to persevere through," Driscoll said. "There's a saying in Galatians that says at the appropriate time you'll reap a harvest. We had to really had to preach that to the guys that it's just not the time yet, we just have to not stop believing."
The Ospreys' harvest continues Wednesday Jan. 25 at 7 pm when they host the FGCU Eagles.
__
For more information or news tips, or if you see an error in this story or have any compliments or concerns, contact [email protected].