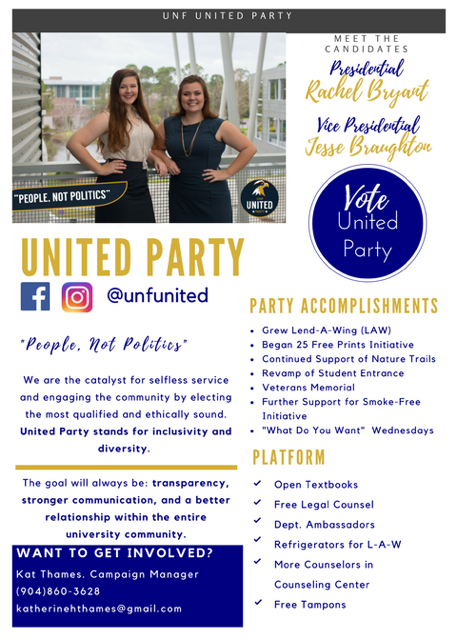 Complaints of slander, lies and signage violations have surfaced regarding this election cycle. The election is one week away and the United Party and the Red Party have each filed complaints against each other.
The first complaint was filed by Red Party presidential candidate, Samantha Mims, against the UNF United Party on Feb. 17. Her file stated that the UNF United Party claimed that two of their "party accomplishments" were false. These two party accomplishments in question are the Veterans Memorial and the 25 Free Prints Initiative.
Mims stated in the complaint that she sent an email to Katherine Thames, the United Party Campaign Manager, regarding these issues, but Thames never responded.
The second complaint is a response to the first. It was filed by Thames on Feb. 22 and is against Mims. The complaint states that Mims defamed the United Party by misrepresenting the party through her complaint and that she made several claims.
"Mims goes beyond simply accusing the United Party of actions, but attempts to represent its intentions," Thames stated in her complaint.
"Not only was the statement printed and written, but it was done in such a manner (a Judicial Complaint) to damage the reputation and turn court and readers of the JC (which would be made accessible to the student body population of UNF as a public record file) against the UNF United Party."
The third complaint was filed by Red Party vice-presidential candidate Tajmaus Johnson against the United Party. In the complaint, he stated that the United Party failed to include a date on their signs, which is required by university policy.
The Facts
Spinnaker will continue to follow this story and post updates as more information becomes available.
—
For more information or news tips, or if you see an error in this story or have any compliments or concerns, contact [email protected].