Campus MovieFest: students display directorial talent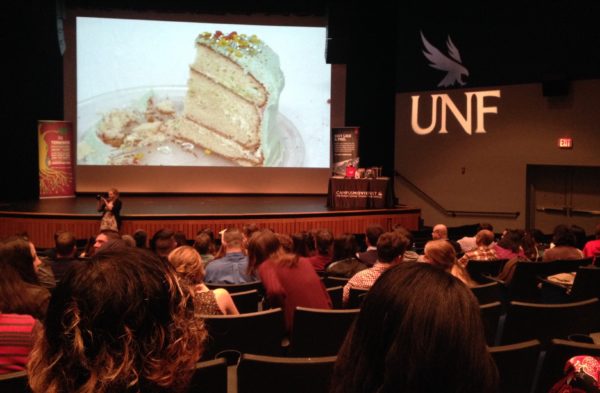 Filming a movie in seven days sounds like a nightmare for any director. However, students relished the challenge and Campus MovieFest screened the best 16 five-minute movies Monday in the Robinson Theater.
The jury awarded four movies that exceeded the judges' and audience's expectations. Those movies were Luminous by Connor Colby, Maverick by Lee Giat, Cake by James Donlon and College. by Levi Jawara.
These four films will compete in the national competition, Terminus, happening June 22 to June 25 in Atlanta.
The winners also received a one-year subscription to Adobe Creative Cloud, valued at $600, and their films will be considered for the 2017 screenings of the Cannes International Film Festival in France.
The Magical Brief-case
Connor Dolby, Graphic Design student, wrote, directed and edited Luminous. The movie's plot developed from Dolby's mental scene of a drug-transaction gone wrong.
Dolby imagined a scene involving a suitcase full of money laying around broken glass next to a person crawling to reach it. However, the only survival element from this first draft was the brief-case.
"I brought this brief-case from Goodwill, which is normally how I like to make my films, by adding a compelling element to it," said Dolby. "It just completely went from there."
The action-thriller started out with a mysterious man coming out of a house holding a brief-case, after an intense, bright light came out of the window. The movie then moves towards a sci-fi reality.
Luminous received the Jury and the Audience award along with four Silver Tripod Award for best cinematography, production design, sound and directing.
DIY Starship
The second most awarded film was Maverick by Lee Giat, an Astrophysics & Communications student.
Following its director's academic path, Maverick tells the story about a girl whose dreams went beyond the sky limit. Ashley Maverick dreams to make space travel accessible for the common population.
"Prove them wrong by doing things that have never been done before," said Giat during the acceptance speech.
Maverick won a total of three awards for the night, including its Jury Award. Ashley Pace, who played the movie's main character, also won a Silver Tripod Award for Best Performance. Lastly, the whole team scored a Silver Tripod Award for Behind the Scenes work.
Sentimental Cake
Moving towards the comedy genre, the next most awarded short-film was Cake with a Jury Award and a Silver Tripod Award for Best Story.
James Donlon, Communications student, wrote, directed and edited his movie Cake after facing an existential moment where life, death and a cake were deeply connected.
Donlon developed Cake's story after attending different funerals that included cakes on their menu. Then, he started questioning the tradition of eating cake from a human relationship perspective.
Donlon does stand-up comedy, so the initial story idea came out as a comical monologue, rather than a short film.
"I think you can make people laugh and also be impactful and have your work add value," Donlon said. "It's more than just jokes; it needs things that have weight to them."
The College Race
Keeping with comedy, College. shows the daily struggles students suffer on a daily basis.
Levi Jawara's College. shows the struggles of a normal student trying to make it on time to class. The protagonist holds a battle against the clock, geese and parking in an almost impossible race to arrive to an exam in less than 10 minutes.
The short film received a Jury Award and a loud ovation from the audience during its screening. According to Jawara, the story is based on his true life experience on campus.
"That literally happened to me three times," Lewara said during his acceptance speech.
—
For more information or news tips, or if you see an error in this story or have any compliments or concerns, contact [email protected].