Palm Trees and Power Lines more than prepared to play at this year's OZ Fest
Palm Trees and Power Lines, a local pop-punk band, began like any relationship between teens in high school does: awkwardly.
It all started when Josh Cravey, one of the band's two singers and guitarists, noticed that Kyle Bailey, the bassist, was wearing an Angels and Airwaves shirt.
"I actually met him in a youth group at church," said Cravey. "We were going to this concert and I saw he had an Angels and Airwaves shirt on and I said to myself, 'okay, I've got to get to know this kid.'"
"I said 'hey' to him and he thought I was weird and it was super awkward, but later on we connected and it just went from there," continued Cravey.
At this point, a few months after Cravey first met Bailey, Palm Trees and Power Lines was nothing more than three friends, Cravey, Bailey and the drummer–who has since been replaced by Christian Parrales.
Shafer Tasso, the band's other singer and guitarist, found his way into Palm Trees and Power Lines in an awkward way as well. Tasso went to Cravey's house to record a song for a band that Tasso was in.
"A month after that, he hits me up like, 'hey man, we have a show at Freebird this week. Want to be in our band?'," said Tasso. "We met the day before the show to practice, which is where I learned all of the songs, and then played at Freebird the next day."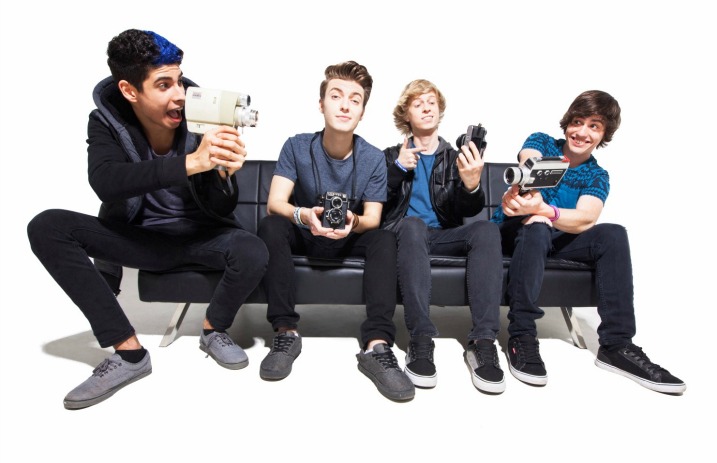 This all happened in 2012. Now, five years later, Palm Trees and Power Lines is preparing for one of their biggest shows yet: UNF's 2017 OZ Fest.
"A lot of people might be mentally stressed about a show like this, but for us, we've done it before, we know how to do it and we're going to do what we always do," said Tasso.
Tasso is right, too. Palm Trees and Power Lines is no stranger to the large crowds that one might find at this year's OZ Fest. In 2015, they opened for Panic! At The Disco and Robert Delong at Jacksonville's Rock on the River 6, a show at the Jacksonville Landing with crowds reaching into the thousands.
When they're not playing shows, which range from stages like the Coxwell Ampitheater at this year's OZ Fest to Tasso's personal favorite, Shantytown Pub, a tiny venue no bigger than UNF's Chik-fil-A indoor sitting area, for reference, they're likely working on new music.
The band released their first EP, High Hopes, in 2013–a release that landed them in the Orlando stop of the 2014 Van's Warped Tour, another large show. This caught the attention of local rock radio, X102.9, who began not only playing their music but promoting them in the form of on-air interviews and more.
Riding off the success of High Hopes, Palm Trees and Power Lines released their second EP, Animalistic. This EP landed them a spot in the Jacksonville stop of the 2015 Van's Warped Tour and countless other shows, including Rock on the River 6.
The band is working on a third album, set to release this summer.
"We're hoping to get it out by July and man, it's so so good," said Tasso. "We can't wait for people to hear it."
If they're not writing their own songs, though, they're likely adding their own flair to someone else's songs in the form of covers. They've taken chart-toppers like Pillowtalk and Dangerous Woman and transformed them into something a little more their style, a little more pop-punk.
"A lot of people will cover a song and it's the same thing," said Tasso. "With us, it's a re-imagining. It's as if we are the artist writing the song."
Usually, each of the covers comes with a music video whose production quality certainly isn't lacking.
According to Cravey, their first video for a cover was filmed on an iPhone. Now, the videos are filmed on sets with multiple cameras and extensive lighting setups.
"It just takes effort," said Cravey. "We took our time and put in a lot of effort and that's how we've grown our videos and YouTube to what they are now."
When asked to describe the band in three words, each of the present members–Bailey, the bassist, couldn't make it–responded with vastly different answers, something telling of the personalities that make up the band.
"Happy, fun music," said Cravey.
"Teen, angst, rebellion," responded Parrales.
"Really bad music," finished Tasso.
If you're interested in finding out which of these answers most accurately describes the band, be sure to check them out at tomorrow's OZ Fest, which begins at 7 p.m. in the Coxwell Amphitheater.
__
For more information or news tips, or if you see an error in this story or have any compliments or concerns, contact [email protected].