The declassified music festival survival guide
Music festivals are an experience. There are festivals like Bonnaroo or Okeechobee Fest where you camp and don't shower for three days, and there are ones like Shaky Knees or Rolling Loud where you fry in the sun all day but come back to an air conditioned hotel (or friend's house) to crash at after a long day of music listening. Whatever the case, this is a comprehensive guide to make sure your festival experience is a pleasant one.
1) Dress for comfort
I am the worst offender of this. At Okeechobee Fest (which was my very first one) I thought it would be a great idea to dress for the aesthetic but please take it from my experience, it's not practical. You can still look cute while rocking the comfortable clothes. I recommend wearing flowy shirts and shorts, or even a really comfortable romper. My personal favorite is a band shirt and shorts. I also recommend wearing shoes that have a lot of support. Vans, Converse, any type of sneaker or even combat boots will get the job done and will still give you some stylish flare.
 2)  For the love of all that is good, bring sunscreen.
SUNSCREEN WILL SAVE YOUR LIFE. Nothing is worse then trying to dance along to your favorite band but your arms are so burned that you cannot even lift them up. Bring sunscreen and keep it lathered on you at all times.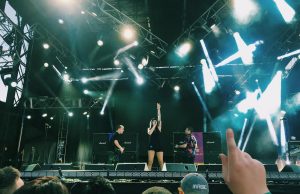 3) If you are camping, bring extra blankets.
If your friends forget them, it will help them out. The uses are endless. Blankets can work as a bed, a pillow, or a place to hide from the weird people walking around the campsite.
    4)  Drink water.
This tip maybe obvious, but you'll be surprised at how many people you see that don't abide to the most basic lifesource. Always have a bottle of water with you. If the venue doesn't allow outside drinks, then you may have to bite the bullet and get a $4 water bottle. But I promise it's worth it for your health.
   5) Try to snack throughout the day.
If you're exploring around the campsite or festival venue, bring a small pack with snacks for you and your friends. My personal favorite is any assortment of protein bars. The protein bars fill you up and will help you stay energized throughout the day. You also save money, because you won't have to buy from the vendors as often!
   6) Keep your phone charged.
If you're at a festival with no service then this will not be difficult. But be sure to keep your phone on airplane or low power mode. If you're camping, I recommend bringing a laptop with you. In case of an emergency, your laptop can charge your phone without any outlet as long as you have your chord. Trust me, I used that tip at Okeechobee Fest and it was a lifesaver.
7) Two words: Dry Shampoo.
Dry Shampoo is a gift. Bring it and use it, especially if you're camping and have no access to showers regularly. Dry shampoo will freshen up anyone's hair and make it smell nice and clean.
 8) Wipe yourself before you wreck yourself.
Throughout the day you will sweat. Keeping some wipes in your bag or pocket will freshen you up and cool you down.
 9) See all the bands you can.
There will be headliners that you will want to see, but don't sleep on the smaller bands. Going to see a band that you never heard before is really an awesome experience. You may discover some new music that you really love.
10) Have fun: Seriously.
Festivals can be tiring and expensive, but be sure that no matter what happens you try your best to fully enjoy yourself. Don't worry about what others are doing, do what you want to do and have a good time doing it. You went there to have an awesome experience, so definitely try your best to keep the good vibes flowing!
__
For more information or news tips, or if you see an error in this story or have any compliments or concerns, contact [email protected].