Ride Along with Jim Carey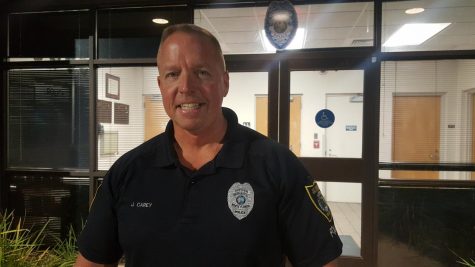 On April 20, I spent several hours doing a ride along with Officer Jim Carey. Despite it being the infamous holiday, the night passed reasonably quietly, except for the time spent talking between us.
We were in Zone 1, which is the circle perimeter of the school.The night consisted of traffic enforcement, patrolling the campus, locking and unlocking doors and just being visible to students. Carey explained that eighty percent of the night usually consists of doing those activities, and nothing really happens at UNF because it is "one of the safest places."
"Don't think of us as enforcers," Carey said. "We are here to help."
The night quietly passed by as we walked through campus. We would spot a couple of students here and there, but the campus was mainly empty. At midnight, we headed back to the station where we met with other officers met for "lunch".
Officer Carey is 48 years old, and always works the night shifts. Usually, officers work 12 hour days for five consecutive days. This doesn't bother him since he used to work night shifts regularly before he retired from JSO.
While at JSO, Carey was part of the drug task force and also led a team of officers in the field. He retired from JSO after working for 25 years. However, he is the type of person who always has to be doing something. So, he decided to stay busy by coming to work the night shifts here at UNF.
"I had a misconception of how college life was going to be here," Carey said. "At the end of the day, it all narrows down to this. Treat everyone how you want to be treated."
In 2013, Carey was diagnosed with throat cancer.
"I was diagnosed on a Wednesday," Carey said. "I had a chemo port put in on Thursday, and on Monday, I had eight hours of chemo. That was every three weeks for two to three days."
He had chemo therapy from October to December, and switched to radiation treatment from February until March. He eventually had to get his parotid gland, which produces the majority of your saliva, removed. So, he makes sure he has a drink, usually his own mixture of Gatorade and water, handy or else he gets a bit of a speech impediment.
Officer Carey is now cancer free. However, he never let cancer stop him from living his life to the fullest on and off campus. He loves to skydive, though he only does it occasionally because "it's an expensive hobby."
On campus, Carey creates memories with students. Whether it is helping them by patrolling the campus overnight to make sure everyone is safe, locking a door when needed, or even by just talking with students about any concerns they might have.
"There's a misconception that cops are bad," Carey said. "That's not true…We are here for your safety, and to make sure everyone's safe. If you need something, call us."
—
If you have any compliments or concerns regarding this article, please email [email protected].