Dallas Moore's place in the NBA
Video by Joslyn Simmons and Pierce Turner.
With the 2017 NBA Draft on Thursday in New York, 60 athletes are waiting to hear their name called on the big stage. Dallas Moore is one of these hopeful individuals who wishes to put a team ballcap on and hold up a pro jersey.
In the weeks leading up to the draft, Moore has worked out with the Oklahoma City Thunder, the Milwaukee Bucks, the Brooklyn Nets and the Denver Nuggets.
Moore has been traveling across the country between training in California, going to workouts, and being home with his family for the draft.  
"I think Coach [Driscoll] and the coaching staff has done a great job preparing me for something like this," Moore said.  
Moore's journey to the draft started after his junior season when he decided to test the draft waters. Because he didn't have an agent, the guard was allowed to return for his senior season with the Ospreys, where he would put into action what he learned during team workouts.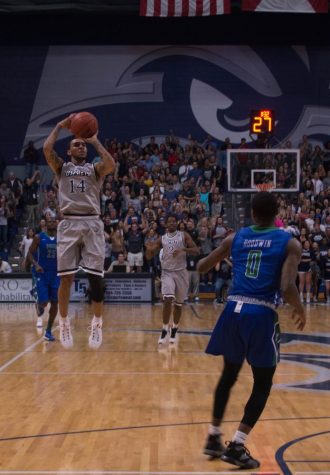 Moore's Accomplishments
In his senior season, Moore played with an intensity that pushed him to break records. He finished as not only UNF's leading scorer with 2,437 points, but also as the Florida  Division I leading scorer.
Moore led the nation in field goals made and started in all 135 games throughout his career. He was selected as an AP All-American Honorable Mention and was chosen two years back-to-back as the ASUN Player of the Year.
Moore has a tough battle to face with this year's projected guard-heavy draft class full of "one and done" players. On several mock draft boards, 15 are "one and done" players  from well-known powerhouse basketball schools  like Kansas, Duke and Kentucky.
In the case of Moore, he is considered undersized by several with his listed height of 6'1. The left-handed point guard does have quick feet, which allows him to move past defenders in the paint to shoot a floater with a quick flick of the wrist.
Skillset
The floor leader brings a strong mental game on and off the court. His ability to see a play develop on the court is another one of his strengths. While there have been times during his UNF career that the weight of the game has weighed him down, Moore has been able to carry his team night after night.
In the pros, Moore would  likely to be a third-string early on. He will also have less of a scoring responsibility on the team.
Men's basketball head coach Matthew Driscoll thinks that Moore's time in the program has given him skills that can carry him to the next level.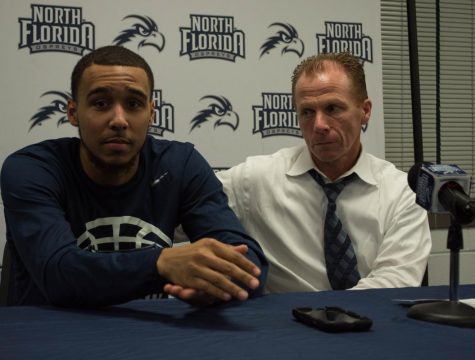 "The one thing that resonated very clearly was his ability to articulate who he is, his ability to video, and understand his game," Driscoll said.   
Players comparisons
Looking over the past years, there have been players who are similar to Moore in either size, years played in college or playing abilities that have been successful at the professional level.
Moore sees himself in players Damon Stoudamire Jr., who's left-handed, and D.J. Augustin.
"D.J. Augustin, he actually wears [the number] 14, he is sort of my size, he went to Texas, he's a really tough player, [and] can shoot the ball like I can,"Moore said.
In this year's draft alone, Oklahoma State's point guard Jawun Evans is projected to be picked by the Orlando Magic. This point guard is also listed 6'1, but only played two season with the Cowboys. While there, Evans averaged 16.6 points a game and finished second in the Big 12 in scoring. Before he left Oklahoma State, he was named as an AP All-American Honorable Mention.
In the 2016 draft class, Buddy Hield of Oklahoma was selected as the sixth overall pick by the New Orleans Pelicans. The listed 6'4  guard was a rarity after going to the draft after playing four years of college ball. While at Oklahoma, he started 118 out of 132 career games. He was second in scoring with 2,291 points and was the Big 12 all-time leading scorer.
Taking it back to the 2011 draft, Isaiah Thomas who is only listed at 5'9 was selected by the Sacramento Kings with the final pick of the draft. Similar to Moore,he is seen as undersized and was even traded from the Kings to Suns to his current team, the Celtics, where his shooting has been off the charts. Before coming into the league, Thomas started all three seasons at the University of Washington.
Unlike other players in the draft, Moore isn't too worried on where he will land after Thursday night.
"Wherever I go I will be happy with it, so I really don't have an ideal team," Moore said.
Even though Moore has a limited name recognition compared to others in the draft, he has potential to go the extra mile. With his participation in the Portsmouth Invitational, Moore has been seen by different organizations that have interest in what he can bring to their summer league. This could led to him being called up in the future to the big stage, if he's not already there on Thursday.