Summer B Kickoff Timeline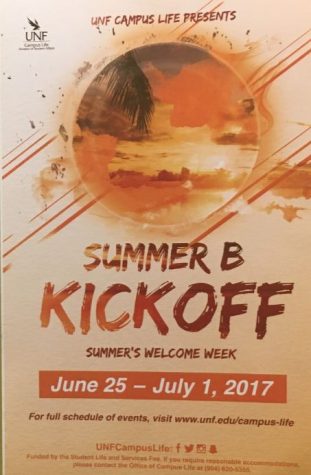 Starting next week, campus won't feel like a ghost town anymore. There will be an influx of freshmen and fellow Ospreys coming to UNF for the Summer B semester.  Summer B kickoff is a week long schedule of events and has something for every Osprey to participate in.
Here's a timeline:
-Party on the Lawn: 8 p.m. at the Osprey Clubhouse
After moving in students can go to the Osprey Clubhouse and meet other students at this welcome event. You can play games and enjoy snacks for free with a valid Osprey 1Card.
-Fitness classes: 5 p.m. at the Student Wellness Complex
With summer just starting, many people are trying to get the perfect beach body, and Campus Recreation can help. Lyndi will be teaching a Booty Blast class, and Ashley will be leading a spin class to the tunes of 2000's Teen Rock.
-Summer B Cookout: 6-9 p.m. at the Osprey Plaza
This 15th annual cookout will be the place for Ospreys to mingle with different student organizations around campus. Make sure you come visit the UNF Spinnaker booth!  The first 400 student to the cookout will get a free UNF tank top, so make sure you're there early. There will also be free food, giveaways, music and activities, all you need is an Osprey 1Card.
-Yoga Under the Stars with Melissa: 8:30 p.m. at the Wellness Complex
Enjoy relaxing yoga under the stars with Melissa on the second floor patio.
Continue your fitness kick with some of these events held in the Student Wellness Complex.
-Zumba with Christian: 6 p.m.
Dance to salsa, hip-hop and more during this high-energy dance class.
-Acro Partner Yoga with Devin and Melissa: 8 p.m.
This class can be taken alone or with a partner while you learn to fly, base spot and much more.
-2 Glow Spin Express: 8:30 p.m.
This quick 30 minute spin class has will give you a quick workout while glowing in the dark. Students might want to show up early because bikes are limited and first come first serve, glow sticks will be provided.
June 28: Blue and Gray Wednesday
-Blue and Gray Wednesday Spirit Snap Contest
The Osprey with the most school spirit will receive a prize from the Bookstore. The full rules and how to enter can be found here.
-Relaxing Yoga with Devon: noon at the Student Wellness Complex  
-Playground with Jarrod: 1 p.m. Student Wellness Complex  
-Summer Lounge: 2 p.m. at the Women's Center
Students can decorate sandals and sunglasses while enjoying food and fun.
-Buns and Guns with Fran: 7 p.m. Student Wellness Complex  
-Beauty and the Beast: 7 p.m. in the Student Union Auditorium
UNF students and guest can enjoy the the movie while eating free popcorn, drinks and candy.
-Symphony of the Soil: 8 p.m. in the Ogier Garden
Enjoy organic popcorn and drinks for free while watching a documentary on soil biology.
-LGBT Lunch Hour: noon at the LGBT Resource Center
Every Thursday during the summer, at noon students can join the LGBT Center staff during their lunch hour.
-Tomboi Show: 7:30 p.m. at the Student Union Ballrooms
The indie queer band will perform while patrons enjoy a pasta bar. Following the show the band will have a Q&A session.
-Summer B Pool Party: 5 p.m. at the Osprey Clubhouse
Have fun in the sun at the Osprey Clubhouse with food music and a giant waterslide.
-Uncut After Dark Party Student Union Ballrooms
Mingle with students from ASIA, BSU and LASO, as they host this party with good music and games.
-Juggling Duo, Team Rootberry: 8 p.m. in the Robinson Theater
This duo will perform dangerous award-winning acts while they juggle and swallow sword. You can enjoy this event with a valid Osprey 1Card.
For a full list of events click here.
—
For more information or news tips, or if you see an error in this story or have any compliments or concerns, contact [email protected].