Baseball Staff adds two new assistant coaches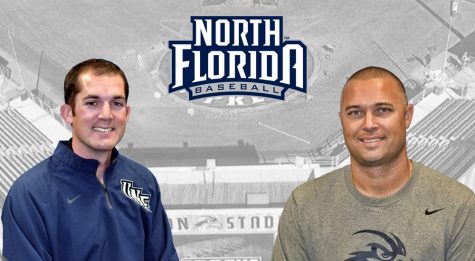 UNF baseball added two former college baseball players as the new assistant coaches for Tim Parenton.
Parenton, who served as the UNF baseball assistant coach from 2010-2013, is excited about the new additions to the coaching staff as he prepares for the upcoming season.
"Andrew [Hannon] and Tommy [Boss]  are great additions to our Osprey staff," Parenton said. "They have a wealth of knowledge and experience to lead our players on and off the field."
Hannon is a former Osprey baseball player and has been apart of the coaching staff since 2011. He previously was the third base coach and in charge of coordinating team travel, scheduling and other tasks.
"It's a fantastic opportunity for Tim, Tommy and I to continue the strong baseball tradition that has been created over the last 30 years at my alma mater," said Hannon. " I'm excited to work with this staff and develop the young men in our program into great people and athletes in their time here at the University of North Florida."
Hannon played multiple positions including first base, second base and shortstop. He also served as a designated hitter and had a .327 career batting average. He finished his career in the UNF record books for hits, total bases and games started, in addition to other records.
While Hannon is a returning face at UNF, Boss is new to the school and ready to see what lies ahead for the program.
"I am extremely excited for the opportunity to come to the University of North Florida, a program that I feel is a sleeping giant," Boss said. " I was lucky enough to play for [Tim Parenton] and know that his leadership and knowledge of the game of baseball will help take UNF to new heights. I cannot wait to meet all the guys and get to work."
A graduate of the University of Florida, Boss was a pitcher on its baseball team for four years from 2001-2005. In his freshman year, he was included on the Freshman All-American Honorable Mention team. During his senior year, Boss was on the National Runner-Up team and the SEC Championship team.
Boss played one season of professional baseball in the Independent Frontier League for the Joliet Jackhammers in 2006.
Kicking off his coaching career at Dunnellon High School from 2007-2011 and returning in 2015, Boss was a three-time Florida Athletic Coaches Association District Coach of the Year winner.
Between his break at Dunnellon, he coached at St. Johns River State College where the Vikings won back-to-back conference titles. They finished out their season ranked fifth in the nation and second in the state.
"When building a staff you look for energetic, knowledgeable, and loyal people and they fit all three categories for us at UNF," said Parenton.
—
For more information or news tips, or if you see an error in this story or have any compliments or concerns, contact [email protected].