Senate President responds to bullying and corruption allegations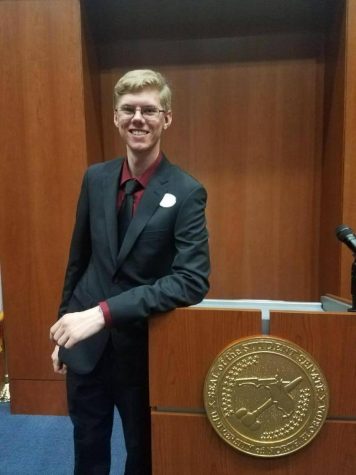 After a fired Student Government employee made allegations about corruption and bullying within SG, Senate President Thomas Beaucham addressed the accusations made by Senator Shawn Adamson.
According to Beaucham, Adamson was acting unprofessionally both in front of Senate and behind closed doors, which led to his termination. During this process Adamson also allegedly tried to "intimidate" Beaucham.
"I don't feel like I should be intimidated for the decisions I made. If you want to talk about it, I'd rather talk about it professionally. But the way he did it, he went about it very unprofessionally," Beaucham said.
On June 6, Beaucham had a meeting with Adamson and professional staff advisers to address Adamson's behavior and to work on his professionalism.
"We wanted to make it clear to him, that you may have valid arguments, you may have a valid statement to make or opinion, but if you don't present yourself in a respectful manner, then no one is going to listen to you," Beaucham said. "It's really going to turn people off, and we want to help him."
When the meeting finished, Beaucham asked if Adamson learned anything and while he allegedly said yes, Beaucham felt Adamson hesitated and still had concerns.
Beaucham said Adamson was pursuing questions about why certain students, such as Chief Justice William Mewborne, were on the Constitutional Review Committee. This committee talks about changes and improvements that could be made to the SG Constitution and proposes those changes to Senate, who then has to approve it.
According to Beaucham, Adamson was asking questions and filling out a judicial review while "on the clock" as the Budget and Allocation chair. This in itself could have been reason enough to fire him, but Beaucham wanted to give him another chance.
"That raised another concern for me, that he was no longer above suspicion in terms of how he was going about taking care of his personal agenda. He was abusing his power as the BAC chair and he was basically using up A&S fees – his wages – in order to take care of something that didn't relate to his job," said Beaucham.
On June 15, Adamson failed to turn in his time sheet when it was due. After Beaucham pressed the issue that it was urgent for Adamson to turn it in, Beaucham alleges that Adamson had an outburst. Adamson's time sheet was incorrect again on June 29.
Beaucham let Adamson know of his termination on June 20 and Adamson officially left his position on June 30. Adamson originally agreed to the termination and didn't mention challenging it until the next day, according to Beaucham.
On the night of the Senate meeting, where Adamson challenged the decision, Beaucham said he reached out to him and wanted 15 minutes to talk in Senate.
"I only planned for ten minutes and he preceded to intimidate me, to make me feel like if I went ahead with what I was deciding to do, that not only does he feel like he's being treated unfairly, but that people would look down on me and they would think that I'm being a bully," Beaucham said.
Only three senators voted against Beaucham's decision.
In the days following the Senate decision, Beaucham changed Adamson's committee to University and Student Affairs to avoid conflicts within the BAC committee. According to Beaucham, Adamson skipped the USA committee and before the BAC committee started, Adamson went to Beaucham and pressured Beaucham to put him in the BAC committee.
"He was telling me that he needed to be on the committee and I said 'I'm sorry I can't do that because I already sent out the spreadsheets' and he said 'If you don't make me a voting member now I'm going to resign.' And when he said that, I felt pressured again because I didn't want to see him leave."
Beaucham said that he let Adamson be a voting member for that meeting, but from now on Adamson will not be a BAC senator.
"I wanted to have this be a peaceful process, but at the same time I felt like he's been intimidating me through and through and I can't accept that anymore," Beaucham said.
Beaucham said he voted for Adamson to be BAC chair and there was no portfolio of Adamson before he became the BAC chair. This contradicts Adamson's accusation in his speech at Senate.
—
For more information or news tips, or if you see an error in this story or have any compliments or concerns, contact [email protected].