Protests rage as white nationalist Richard Spencer speaks at UF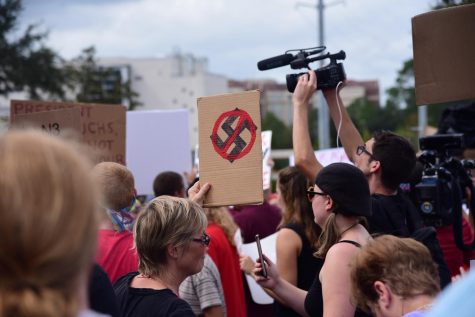 Tensions were high in Gainesville on Thursday as Richard Spencer, a self-proclaimed white nationalist, spoke at the University of Florida.
Hundreds of people gathered on UF's campus, with the large majority appearing to protest against Spencer. A variety of organizations, such as Black Lives Matter and "No Nazis @ UF", a group organized by students specifically for Spencer's appearance, were in attendance.
"Of course this protest isn't necessarily going to be safe," said Marian Mohamed, a junior studying philosophy and women's studies at UF.  "No change has ever come from just having conversations with extremists. We have to be out here and be organized, we have to show them that we're stronger together. Nazis and hate speech of any kind are not welcome in Gainesville. It will not be tolerated by the community."
Several law enforcement agencies, including the Gainesville Police Department, the Florida Highway Patrol and the Alachua County Sheriff's Office, provided security for the event. In total, over 500 law enforcement personnel were present.
"I am very glad that it didn't turn violent,"  said Mark Davis, a junior computer engineering student at UF. "I thought that law enforcement officers did a great job with keeping things toned down, at least with regards to physical violence."
While the demonstrations remained peaceful for the most part, at least one Spencer supporter was assaulted by protesters. The man was wearing a white t-shirt with swastikas on it and red suspenders. Protesters hit the supporter at least once in the face, and he could later be seen with blood running down his chin.
As a storm of protests raged outside, a limited number of people were actually able to hear Spencer speak. According to Gainesville native Seth Smith, who tried to enter the Phillips Center to see Spencer, the National Policy Institute was controlling who went inside the event.
"What they're doing is actually ensuring you're white enough to go in," Smith said. "Multiple members who are African American, Hispanic are getting kicked out of there because of the color of their skin and no other reason than that."
UNF graduate Michelle Gershon was outside the Phillips Center protesting and said she would be disappointed in UNF if they let Spencer speak on campus. She thinks that UF could have taken a stronger stance and said no to Spencer.
"I think people have a right to freedom of speech but that doesn't mean we have to give them a venue to speak," said Gershon. "That's a very different thing."
Spencer took the stage around 2:45 p.m., and was scheduled to speak for two hours but, the event ended early due to disruption by those in attendance. Chants of "go home, Spencer," among other things, could be heard inside and outside the venue, effectively drowning out Spencer's talk.  
"You've sent your message, why don't we have a conversation?" asked Spencer rhetorically during his speech. "Each one of you is at the premiere event for the question of free speech in this country. You all know that, and this is how you behave."
Spencer's pleas were ultimately futile, as the students of the university refused to cooperate.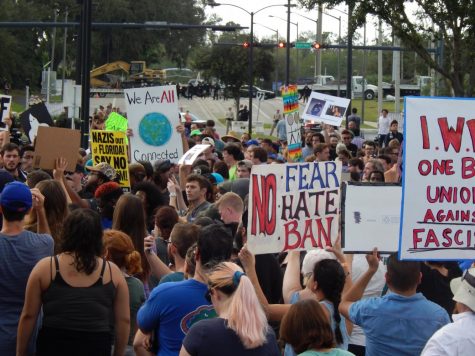 __
For more information or news tips, or if you see an error in this story or have any compliments or concerns, contact [email protected].