Peebs on-campus delivery: Get a taste of this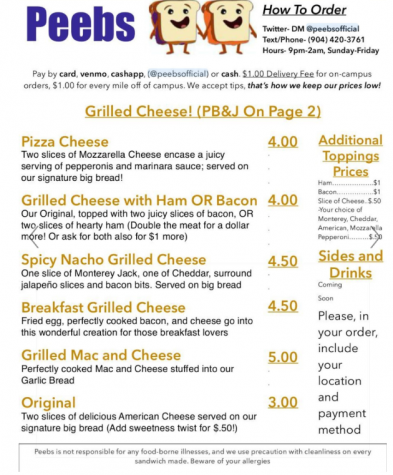 The next big thing on campus is happening right now, and your taste buds will want in, trust me. Peebs student-run on campus delivery system is up and running, providing a quality menu with interesting meals and treats.
UNF students are raving about how easy it is to order in from Peebs when study breaks are not really an option staying in the dorm or library all day.
From the hours of 9 a.m. to 2 a.m., three UNF students join forces to create a business dedicated to providing food to students whenever and wherever they need it. Peebs was founded by Austin Drury, co-founded by Eddie Miller, Mike Freeman, Frank German, and Will Kellehner.
Q: How many people run your business?
A:We have three equal owners, and on most nights all three of us work together.
Q: How did Peebs initially get it's start?
A: Peebs got its start a few years ago when we were just talking about how awesome it would be to have a PB&J delivery service on campus. It was our founder's idea and we all loved it and started to work the next day. In a few weeks we added grilled cheeses to the menu. We loved doing it but had to stop due to other pressing responsibilities. We have re-opened Peebs this year with a lot of knowledge gained from that first year and are better than ever!
Q: What are some of the most unique items on your menu?
A: Our fan favorites are the Pizza Cheese (mozzarella, pepperoni, marinara) and S'mores (chocolate syrup, chocolate chips and fluff). We also have an awesome grilled mac and cheese and grilled nutella and bananas, all delicious!
Q: What locations do you deliver to?
A: We deliver anywhere on campus, and anywhere within reason off campus
Q: Are you hiring?
A: We are looking to expand our operations in the future; we will probably be hiring in a month or so.
Q: How would you describe your delivery service?
A: Fast (about 30 minute average wait time), good communication, and we pack all our sandwiches in brown paper bags, to give a good old-school "mom's lunch" vibe. Also our motto in the kitchen is "make it fat", we are always trying to stuff our sandwiches with our wonderful ingredients to make it better for the customer.
__
For more information or news tips, or if you see an error in this story or have any compliments or concerns, contact [email protected].