Osprey Connector's contract almost up, what's next?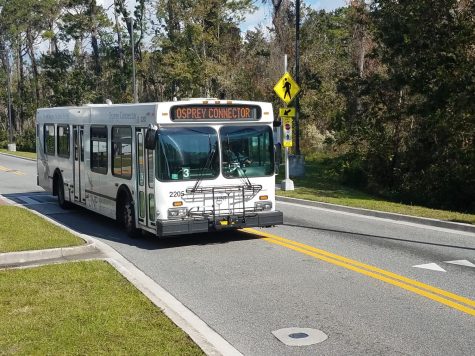 If you are a commuter student, then you are familiar with the Osprey Connector. There are changes coming in the near future that could affect the shuttle.
The shuttle system began in 2007 under the operation of Academy Bus Charters. They had a five-year contract with the option of another five-year renewal. The school renewed the contract in 2012, and now the current contract is up on Saturday Dec. 9.
"We are mandated at this point to go out to the marketplace," Director of Business and Parking Services, George Androuin said. "We're in the process of doing an invitation to negotiate, where we call vendors in to pitch their services and their prices [to the university]. We have a committee that vets it and eventually will hopefully award one of the successful vendors."
These vendors would be paid by the students based on a fee per credit hour it is currently $4.08. This could change if new stops are added to places such as the the Town Center route. But as of now, there has been no discussion of any route changes.
"I suppose anything is up for consideration, especially given that all that growth has occurred on the northern side of the road," Androuin said. "It all depends on how we re-manage the buses when we do the scheduling."
At this point, no decision has been made on who the new shuttle operators will be. A decision will be made before Academy's contract is over, though.
__
For more information or news tips, or if you see an error in this story or have any compliments or concerns, contact [email protected].