Our favorite holiday recipes
It's the most wonderful thyme of the year
Carly Kramer & Alexandra Torres-Perez
December 17, 2017
The holidays are getting closer and closer, and that means decorations and lights everywhere. But more importantly, it means there will also be food. Here are a couple of our favorite holiday recipes that you might want to try making this holiday season.
Banana Bread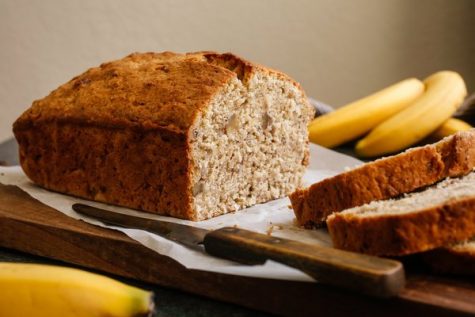 Ingridients:
3 ripe bananas, mashed
1/2 stick melted butter
1/2 cup sugar
1 large egg, beaten
1 1/2 cups flour
1 tsp baking soda
1 tsp vanilla extract
First, you want to mix the sugar and butter in a bowl. Then, add the mashed bananas into this sugary butter, and mix it well. Add the beaten egg and vanilla; then, sift in flour and baking soda. You want to make sure everything is well-blended before pouring your mixture into a greased loaf pan. You will bake your banana bread at 350 degrees for 25-30 minutes. You can check if it is done by inserting a toothpick in the banana bread. If the toothpick comes out clean, the bread is done. If not, leave it in the oven for longer until the toothpick does come out clean.
Chef's Note: You can put a full cup of sugar instead of a half if you prefer sweeter bread. You can also use a full stick of butter to make your bread more moist.
Coquito (Spanish Eggnog, but Better)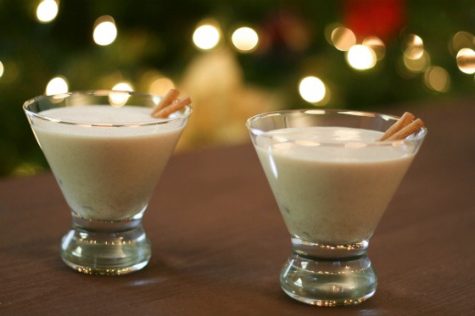 Ingridients:
1 can of evaporated milk
1 can of condensed milk.
1 can of coconut cream (I recommend Coco Lopez)
I cup of your choice of white rum (I recommend Bacardi)
½ tsp cinnamon
½ tbs vanilla extract
2 cinnamon sticks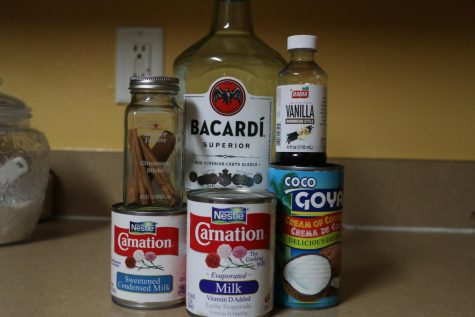 In the blender, put a can of evaporated milk, condensed milk and coconut cream. Blend for a few seconds; then, add your cup of white rum along with cinnamon and vanilla extract.  Blend thoroughly and stop as soon as bubbles start showing up on top. Place the mixture in a bottle or container, and place two cinnamon sticks inside the container. Let it chill in the fridge overnight, and by tomorrow you'll have some extra holiday spirit in the fridge. Make sure you shake well before pouring.
Chef's Note: Is your family driving you a little crazier than usual? You can make your coquito stronger by adding an additional ½ cup in the blender, or however more you prefer your choice.
__
For more information or news tips, or if you see an error in this story or have any compliments or concerns, contact [email protected].