Nelson leads over Scott in Florida Senate Race, UNF poll shows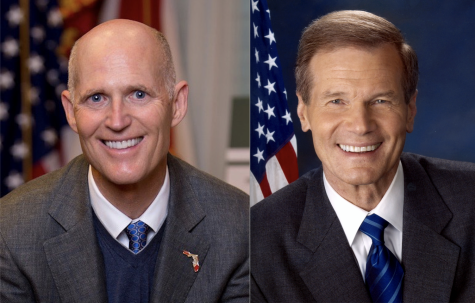 Sen. Bill Nelson is beginning to take the lead over Republican Gov. Rick Scott, a new UNF poll shows. Overall, it showed Nelson leading Scott 48-42 percent in a poll surveying 429 likely Florida voters.
Both candidates have secured their party bases, according to the poll, with 86 percent of democrats voting for Nelson and 79 percent of republicans voting for Scott.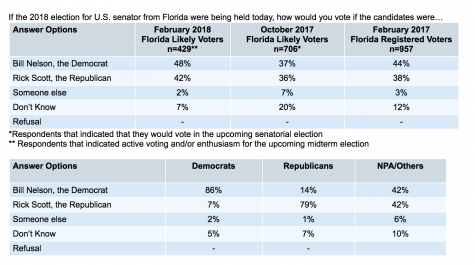 For Nelson, 52 percent of likely voters claim to somewhat or strongly approve of the job he's doing and 20 percent disapprove, either strongly or somewhat. As for Scott, 63 percent reported to approve of the job he's doing strongly or somewhat, with 31 percent disapproving either strongly or somewhat.
"Both senate candidates have net positive job approval ratings of 32 percentage points," said Michael Binder, faculty director of the Public Opinion Research Lab at UNF. "This high level of job approval is very unusual and is going to lead to a hotly contested election."
Trump's approval ratings were at 41 percent approval and 51 percent disapproval. A large amount of registered Democrats—87 percent—disapprove of Trump, while only 16 percent of registered Republicans disapprove.
Binder said he thinks Scott may have lost popularity in this poll due to Trump, with the main shift in UNF's polling of the senate race since October 2017 among the number of Republicans who say they support the Democrat over Scott. The poll shows 14 percent of republicans going for the democratic option for the 2018 senate race.
"Even though it appears Nelson has a reasonable lead in the poll, the election results will ultimately get determined by who shows up in November," Binder said. "Historically, Republicans have enjoyed a turnout advantage in midterms, but with the current mood of the country, and a large number of Republican retirements, Democrats are optimistic about an impending blue wave."
—
For more information or news tips, or if you see an error in this story or have any compliments or concerns, contact [email protected].