Firebirds Wood Fired Grill: Onion rings to die for
When I first walked into Firebirds Wood Fired Grill, I was greeted with the cozy ambience of a fireplace and dim lighting. Several smiling faces greeted me, and my party was seated fairly quickly.
It wasn't long before our food was served–time flies by while chatting it up with friends. I ordered onion rings and the Portabella Sandwich, coming out to around $25. Not very budget friendly, but the meal plus the rings could be split between two people as long as they aren't completely famished.
Overall, the meal was delicious. The Ranch Rings were the best onion rings I've ever tasted, and are served with a thick garlic ranch sauce. The Panko crumbs formed around the rings created an extra crispy appetizer that is able to stand up to the thick dipping sauce. This was easily my favorite part of the meal and I would go back for the onion rings alone.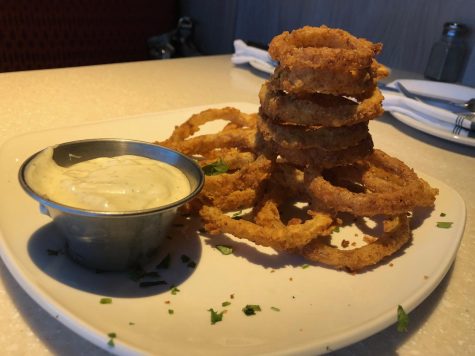 The Portabella Sandwich was the most mediocre part of my meal. The grilled mushroom contrasted nicely with the fresh, firm tomato, and the spinach was crisp. It wasn't a horrible sandwich, however it simply did not have the wow-factor I was hoping for. For the price (right under $13), I expected more flavor, and this sandwich did not deliver. Putting the onion rings on the sandwich or even a side of garlic aioli would probably pep it up. My side item was a refreshingly sweet fruit bowl. I was half expecting the usual mediocre fruit salad, but this was more lively and colorful.
Let me take a second to talk about the exceptional customer service. The server and her team were very professional. They checked in on us just enough and not too much. About halfway through our meal, we were offered a loaf of bread and some butter. This would have been nice to start off with, but I accepted, because who doesn't want free bread and butter? At the end of my visit, they even boxed my food up for me, which I always appreciate because I am clumsy and seem to find a way to spill anything.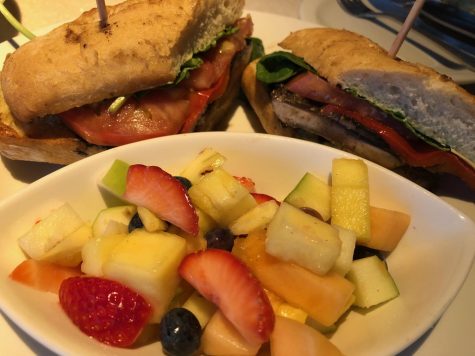 By the time we were leaving, the small waiting area was packed with the regular dinner crowd.  It must be a hot spot for dinner on the weekend, or it was that day at least. I enjoyed this trip to Firebirds. I would definitely go back to grab some appetizers and maybe even try some of their craft cocktails or a dessert. It is a nice restaurant and worth the splurge, but just not a place I would visit on a regular basis for lunch due to the pricing.
—
For more information or news tips, or if you see an error in this story or have any compliments or concerns, contact [email protected].