Day One: Presidential candidate Kevin Carman speaks to students
On Feb. 12, the first student open forum for presidential candidates took place in the Student Union, featuring Kevin Carman. Carman is an Executive Vice President, Provost, and Professor at the University of Nevada.
During the forum, Carman said he became aware of the position through Parker Executive Search, and he became interested in our University upon further research.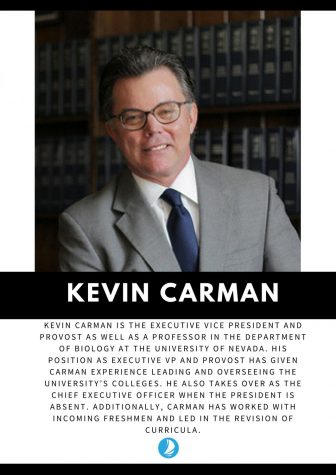 Carman said, "Part of my experience that does prepare me well for the presidency is that I had oversight of the entire University [of Nevada]." He also said, "When the president is away I serve in the position of the president."
Carman mentioned that he is not interested in being the president of a mature school. He prefers a school with plenty of opportunities, potential, and room for development.
Carman was asked what he believes are the two top priorities that UNF should tackle. He said increasing student retention and graduation, as well as determining the strongest university programs to decide if the university should move forward as a research university, should be the top priorities..
Carman said, "I'm interested in programs that may advance students' success and improve retention and graduation rates at the university." He mentioned his experience increasing retention and graduation at the University of Nevada.
In particular, Carman talked about a program which originated from Louisiana State. The program brings in students a week early to live on campus and participate in a class they plan to take during the semester. Carman said it helps students learn about campus resources, note taking skills, time management, and connects them with their professor, better preparing them for their future.
Regarding the cost of tuition, Carman said, "We care deeply about maintaining the cost of education for students, and making it affordable while minimizing student debt."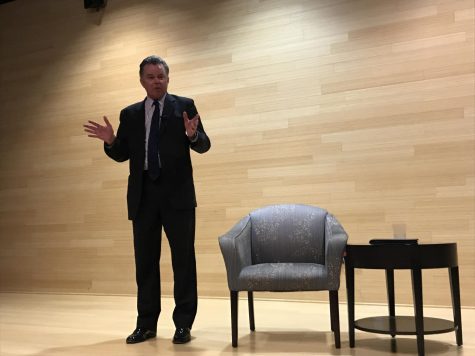 Carman was also asked how he would improve revenue. He said tuition rates could go up in the future, and he believes in looking for more non-traditional ways to increase revenue, like attracting international students and students from out-of-state. However, the school must determine a way to increase out of state enrollment without harming in-state students.
Carman mentioned that increasing the amount of international students will also give students a global perspective, which he says is a characteristic students should have going into graduation.
Another question asked was how he would increase diversity. Carman said UNF should reach out to high schools, local and non-local, that have high diversity. He said UNF should "get them thinking about college" and realize their potential.
"What I've learned is that you can't be passive about these issues. You really have to be actively engaged and truly care about diversifying your faculty and student body," said Carman.
Carman also believes the size of enrollment will remain pretty constant here at UNF. He said there will be about 21,000 students in about five years. In about ten years, Carman believes enrollment may reach around 25,000.
He said, "I actually favor thoughtful, controlled growth rather than an out-of-control, rapid growth."
One of the things that most impressed him about UNF is its' focus on being involved with the community. He said this involvement causes the community to value the university as well. He also finds athletics to be important in increasing community involvement.
As the UNF President, Carman would ensure that the news organization will remain independent. He said, "I think it is an opportunity for students to have a voice and to address the issues that are important to them."
Last semester, there was an incident here at UNF involving a former KKK member, which brought up issues of white supremacy. Carman was asked how he would deal with this situation. He said there were similar issues this last year at the University of Nevada.
"This led us to a very challenging discussion, that I would say continues to this day, on how to address those issues," Carman stated. He believes what a university should do is reaffirm who they are and what they stand for, highlighting the values they have.
In a closing statement, Carman said he wants to enrich students' experience and "have a sense of community and identity."
"I think that [UNF] has enormous potential to have an extraordinary physical setting that inspires a type of learning and community that most institutions just don't have," said Carman.
The open forum then came to an end. Students can give feedback on Carman here. The next open forum will take place Feb. 13 in the Student Union, featuring John Floros from Kansas State University.