This week SG: Emergency Senate meeting and the possible removal of senator
Correction 02/20 @ 2:50 p.m.: Funds transferred reported in the Budget and Allocation Meeting were incorrect. We take corrections seriously and apologize for this error.
On Friday, Feb. 16, various Student Government committees met for regular business. An emergency Senate meeting was also called in order to hear a special request by the African Student Association.
The emergency senate meeting was called in order to hear a special request made by the African Student Association. The request was not addressed at the last senate meeting on Feb. 9, prompting the emergency meeting.
The request was for a grant of $1,663.22 in order to cover the food and decoration expenses for the third annual African Student Association Pageant (ASA). It was reported to Senate that the ASA has successfully raised just over $100 on their own so far.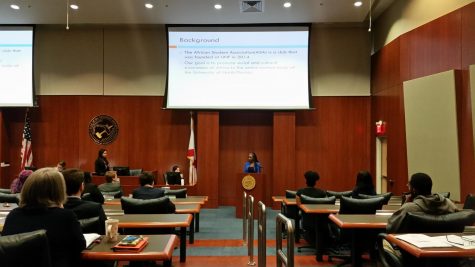 Their goal is to raise another $350 on their own, however, SG aid is needed in order to obtain adequate funding for the event.
The emergency meeting concluded after the Senate voted unanimously to approve the funding request.
In the  Constitution and Statutes Committee meeting, led by Senate President Pro Tempore Thomas Pluchon, the absence appeal hearings of Senators Camden Dean and Zoe Burroughs were discussed.
A motion was made to suspend Dean's appeal hearing, pending he makes up additional volunteer hours in order to redeem his absences. Senator Burroughs was absent from the committee meeting and may be subject to removal from her position.
The meeting concluded with the committee discussing and making minor amendments to the Senate Policies and Procedures.
The Budget and Allocations Committee meeting immediately followed, beginning when Treasurer Chris Jordan informed the committee of recent budget transfers.
In his report, Jordan addressed that $670 in the Wellness Center budget transferred from Repairs and Maintenance, and Advertising and Promotional Items to T-shirts. $10,500 was transferred in the Student Union budget to cover a maternity leave. Jordan also reported that $16,230.81 remains in the travel expenses budget.
A total of 8 reports were given by various clubs and societies in order to request additional funding.
Finally, Senate President Nina Lee filled in for Senator Megan Kovac as chairwoman of the University and Student Affairs Committee.
The committee met to continue discussion regarding the Osprey Voice proposal to potentially bring a new skatepark to UNF campus. A survey to gauge student interest in a skatepark was collaborated on and will be presented in the February Osprey Voice.
Previous Osprey Voice results can be found here.
The Government Oversight Committee, led by Chair Kyle Cohen, met to discuss and vote on new executive and judicial appointments.
Elections Commissioner Aesha Soliman presented Lawrence Dutton to be appointed as the new Deputy Elections Commissioner. Dutton has been acting as Deputy Elections Commissioner for the last week and is seeking to make his position official.
UNF students Kenny Johnson, Lee Tomlins and Ray Myers were then presented to the committee for judicial appointment as candidates for Associate Justice positions.
All executive and judicial candidates received unanimous committee approval and will be forwarded to the Senate in order to be voted on. The vote will take place during the next senate meeting on Friday, Feb. 23.