Parkland students rally for gun law reform in Tallahassee Wednesday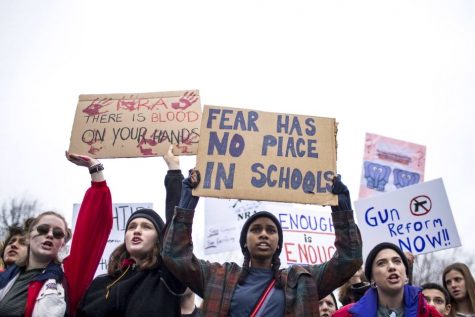 Change the state's gun laws — that's the message students from Marjory Stoneman Douglas High School are hoping to send to Florida lawmakers. Hundreds traveled by bus from Parkland to Tallahassee where they'll hold a rally Wednesday.
The students are marching to the Florida State Capitol just one week after their former classmate Nikolas Cruz opened fire with an AR-15, killing 17 and injuring dozens.
According to Jim Lewis, an attorney for Cruz's family, 19-year-old Cruz legally purchased his assault rifle.
The Florida Coalition to Prevent Gun Violence is organizing Wednesday's rally in Tallahassee. The group was created in 2016 after the Pulse nightclub shooting in Orlando. Survivors from Pulse will join Marjory Stoneman students at the capitol to rally.
The organization is seeking to convince legislators to ban the sale of AR-15s and other assault rifles in Florida. The Florida House of Representatives voted down on a motion to take up a bill that would ban assault rifles.
"We want these weapons and large capacity magazines banned in the state of Florida," the group wrote on their Facebook event page. "Senate Bill 196 is sitting in the Senate Judiciary Committee and has yet to be heard. We call on the Chair of the committee, Senator Greg Steube, to place SB 196 on the agenda and give it a fair hearing."
Instead of a complete ban, legislators are rather focusing on raising the minimum age to buy a gun. The plan would raise the legal age for owning an assault rifle from 18 to 21 and add a three day waiting period.
"They're voting to have shootings continually happen. These people who voted down the bill haven't experienced what we did. I want to say to them, 'It could be you,'" 16-year-old Noah Kaufman said as he made the 400-mile (640-kilometer) trip from Parkland to Tallahassee.
UNF students can show their support for the Florida Coalition to Prevent Gun Violence cause from Jacksonville by signing this petition.
—
For more information or news tips, or if you see an error in this story or have any compliments or concerns, contact [email protected].