Vigil held at UNF to honor victims of Parkland shooting
[embedyt] https://www.youtube.com/watch?v=NUUjqeIZw28[/embedyt]

17 candles representing 17 lives. Lives taken too soon after a former student entered Marjory Stoneman Douglas High School and opened fire on Feb. 14. UNF students and faculty gathered at the Peace Plaza on Feb. 21 to honor the lives that were lost during the school shooting.

"I feel like I've come to too many of these in the past year," Associate Director of the UNF Counseling Center Michael Malec said. "Yet, I always feel better leaving than when I first came in."

The Department of Diversity Initiatives had several guest speakers talk to those who attended the vigil. Each speaker stood in the middle of the arc of 17 candles as they spoke on a different matter. A graduate student read off the names of all 17 victims. UPD Chief Frank Mackesy spoke on violence and how he will work to keep students safe on campus. Senior Director of the Women's Center Sheila Spivey spoke on the resources available to students.

Junior UNF student Troy Capers sent a powerful message that brought several students to tears. His goal—to have students leave with hope.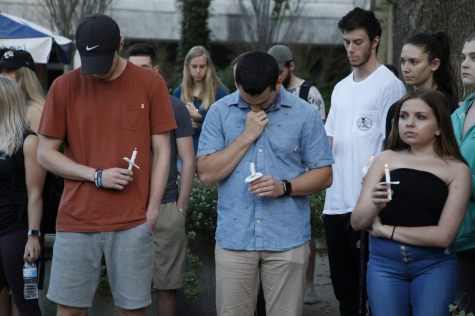 "In the last two years, I've been asked to give a hopeful message within a circle of candles at least three times, and I know there are people out there tonight where some of you have heard more than three rounds of thoughts and prayers," Capers said to the students. "We need the hope that transcends time. Hope that changes minds. Hope that touches hearts. Hope that changes nations. Hope that defines generations."
After the vigil was over, the crowd dispersed, but a small group of students who went to Stoneman Douglas High stuck around talking about their high school memories and the memories they had with some of the victims of the shooting. These students also spoke on the actions they want to see done to prevent more people from being killed.
"I want to see change," freshman Sam Hauer said. "Enough is enough. I graduated from Stoneman Douglas last year, and going home for the weekend and seeing my town so upset. So torn apart, but I've never seen such passion in people. They are going to change this world, and we just got to give them support."
A group of over 100 students from Stoneman Douglas High traveled to Tallahassee on Feb. 21 to protest. They hoped to send Florida lawmakers the message to change the state's gun laws. The students who currently attend UNF also want to see some sort of change to prevent this from happening again.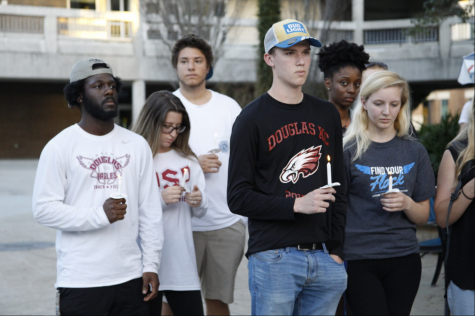 "The action that I want is compromise," sophomore Jared Rubin said. "People can take money from whoever they want. They can stick to their beliefs all they want, but that's not going to get anything done. I think there needs to be compromise. I grew up in a very gun-friendly household. I have a video on my social media of me shooting an AR-15. It's a lot of fun to shoot, but I don't need it in my life."
However, it is not only those students from Stoneman Douglas High that want change. Thousands met up with the students in Tallahassee wanting the same kind of change, and even students at UNF that have no relation to those who attended Stoneman Douglas High want to help out.
"At UNF, I think we have the same kind of values," Rubin said. "We are all here together. We're going to support each other, and we want this to never happen again."
—
For more information or news tips, or if you see an error in this story or have any compliments or concerns, contact [email protected].