Future UNF President Szymanski on his plans, goals; "Thrilled" to be chosen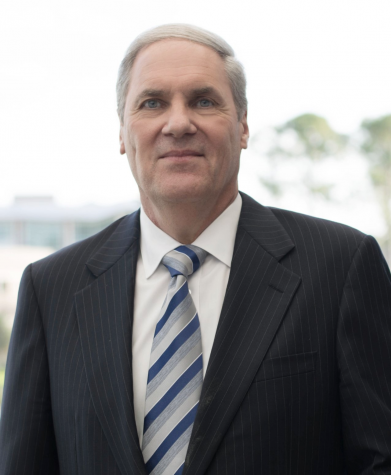 The pool of presidential candidates had begun with 75 individuals and was narrowed down to 12 on Feb. 1. The list was then narrowed down even further to just four remaining candidates. Finally, in a meeting Feb. 20, the University of North Florida Board of Trustees (BOT) reviewed public feedback and discussion in order to come to the unanimous conclusion — David Szymanski will be UNF's next president.  
In the final minutes of deliberation Feb. 20, Trustee Oscar Munoz mentioned current University President John Delaney's dedication and accomplishment, and said Szymanski has the skills to "keep the wheel turning."
In an interview with Spinnaker Feb. 22, Szymansky said creating personal relationships is one of his strongest assets, which he believes has many benefits.
He mentioned his experience playing basketball, saying, "One of the things that basketball does for you is thinking of that notion of team. It's everybody together, and it's people helping each other out and working collaboratively."
Creating that sense of a team on campus is important to the President-elect.
Priorities
Overcoming time constraints while hearing people from all parts of the campus and community is something Szymanski says will be his biggest challenge.
Despite this, Szymanski said focusing on students is his main priority. This applies to both their learning and holistic experiences. He wants to look into additional learning opportunities for students, like applied research and internships, building on top of opportunities that are already in place at UNF.
One of the reasons Trustee Stephen Joost supported Szymanski for president is because he believes the Cincinnati businessman can inspire students, faculty, and the community by creating a learning environment that extends outside of the classroom. Other positive characteristics mentioned by BOT members included being engaged, thoughtful, strategic, and a servant of others.
Internal Affairs
Although Trustee Paul McElroy stated that Szymanski shows knowledge when it comes to external affairs, he believes Szymanski is lacking when it comes to internal affairs. However, Dr. Radha Pyati felt differently saying Szymanski demonstrated a wide range of skills, including internal skills, when making the final decision to elect him.  
Trustee Wilfredo Gonzalez stood by Pyati on the President-elect's internal skills. Gonzalez compared the university to a small city and said Szymanski has the ability to lead the small city of UNF.
Internally, Szymansky wants to work with students to understand how to best serve their needs.
"I look at this as a nice opportunity to learn about people, to learn about what they're thinking, what their perspective is, and then come up with a solution to whatever the issue is, or a conclusion that's really exciting, stimulating, and thought-provoking," Szymanski said.
The President-elect also looks forward to meeting with students, in order to learn from them and create an "open door atmosphere" where they can come with ideas, suggestions, or concerns.
When asked how he will work with people who have different opinions, Szymanski said that no one individual has the answer, but rather together they can create a phenomenal answer.
"Sometimes you think you can go from A to B, but there's actually this C that comes across," Szymanski said. "You go 'wow I would have never really thought about that otherwise.' It's with the power of diversity and perspectives that you come together."
According to Chairman of the Presidential Search Committee Kevin Hyde, Szymanski had said, "I will do for UNF what is right," when interviewed by the committee. He demonstrated his dedication to serve the university, student body and faculty as a whole.
"My job is to do things well and create opportunities for other people," Szymanski said. " And I think it's an exciting time to be a student and an exciting time to be at UNF.
Looking to the future, Szymanski said, "I'm just thrilled and honored and humbled to be the next president of the University of North Florida."
The Next Steps
Chairman Hyde will now negotiate the contract with Szymanski. Upon agreement, the BOT will vote on the approval of the contract around March 1. Following the BOT's approval, the information will be passed on to the Florida Board of Governors (BOG) for a final decision around March 28.
John Delaney's last day as UNF President is May 31. However, when Szymanski will take over the position is still to be determined.
—
For more information or news tips, or if you see an error in this story or have any compliments or concerns, contact [email protected].