Spinnaker employee unethically gives Forward Party interview questions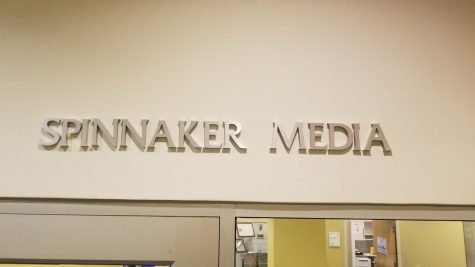 UNF Spinnaker holds a strong belief in ethical journalism. We seek out the truth on campus and we believe in an independent media. We are sad to report one of Spinnaker's own violated this belief.
Last week, on March 2, Spinnaker Radio hosted the three Student Government parties for separate interviews. The interviews were on James Donlon's morning show, "The Early Bird." Spinnaker Radio's Station Manager Liliana Kendall became aware of the fact that the Forward Party received the questions ahead of time just minutes before the interview with Donlon.
After Kendall reported the incident to her supervisor Maureen Baker, it was later found out that a student from Spinnaker Radio told the Forward Party chair and Senator candidate John Aloszka the questions Donlon would ask.
Kendall became the official Spinnaker Radio's Station Manager two hours prior to this incident. Spinnaker News learned about this incident Monday morning.
When approached by Spinnaker, Aloszka declined to comment. Later on, he returned and admitted a student from Spinnaker did give him the questions in advance.
"Honestly, I don't think it's that big of a deal because it was just our platform, you know why do you want a dog park, why do you want this, why do you want that," Aloszka said. "Questions we were already asked and because we didn't solicit it, it's not on us."
When asked about the ethics on continuing the interview despite the Forward party being the only party to  receive the questions, Aloszka stated he wanted to continue with the interview.
"What were we going to do," Aloszka said. "Cancel the interview because we got questions ahead of them and the other two parties were going to get an interview?"
Jenna DuPilka and Maria Bermudez, Forward Party Presidential and Vice Presidential candidates, made a statement on Facebook after Spinnaker interviewed them that explained their point of view of the interview. They stated they weren't given questions only ideas about what could have been asked and that it was all unsolicited.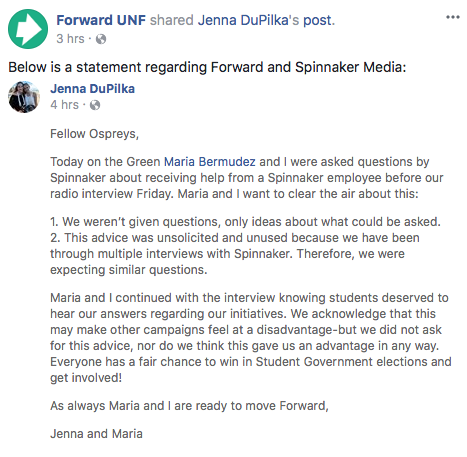 "Maria and I continued with the interview knowing students deserved to hear our answers regarding our initiatives," the Facebook post stated. "We acknowledge that this may make other campaigns feel at a disadvantage-but we did not ask for this advice, nor do we think this gave us an advantage in any way. Everyone has a fair chance to win in Student Government elections and get involved!"
When informed of what happened Thomas Beaucham, Student Body president and Red Party presidential candidate, said he was disappointed in both Spinnaker and the party involved.
Spinnaker reached out to Christopher Deardeuff, the Howard Party presidential candidate, but did not receive a response at the time of publication.
SG elections will be tomorrow, March 6, and Wednesday, March 7, from 9  a.m. to 7 p.m.
Spinnaker would like to reiterate to its readers that we uphold strong views of ethical journalism, transparency, and to remain unbiased in all SG affairs. We apologize to our readers for a breach in their trust and can only hope to do better.
—
For more information or news tips, or if you see an error in this story or have any compliments or concerns, contact [email protected].