The spaceship doesn't care if you're a boy or a girl: a NASA astronaut visits UNF
"I wish we didn't have to do events like this."
This is how Alexandra Schönning, Professor of Mechanical Engineering, opened the Women in STEM Conference at the Herbert University Center. What she meant is that she wishes that more women occupied the STEM field than the mere 14 percent it is made up of today. However, for Nicole Stott, the sky was not the limit.
Nicole Stott, a veteran of NASA, was a keynote speaker and panel guest at the Conference. She is known for being the first astronaut to paint in space. Along with her endeavors to join the worlds of science and art, she discussed her wishes to influence more women to pursue STEM careers.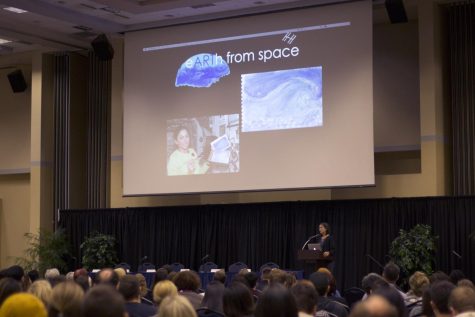 "I think young girls need to see women," she said. "They need to see the examples and the role models."
Stott grew up in St. Petersburg with a dream of seeing Florida out of the window. She was inspired by her parents to let her curiosity thrive. In 1988, her dream came true when she began working for NASA at the Kennedy Space Center. She also holds the women's world record for saturation diving.
"The spaceship doesn't care if you're a boy or a girl," Stott said to a little girl that was dressed in a NASA astronaut uniform prior to the speech. During her lecture, the same girl waved to her from the crowd.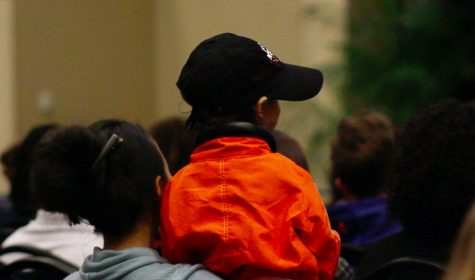 Stott acknowledged that the STEM field is improving in the diversity aspect of the engineering field. She recalled that when she would walk into Mission Control, the room would be packed with women. She now would like to see the same happen up in Space.
Stott stressed the importance of acceptance. She believes that a culmination of different people will bring new discoveries in any field.
"The sooner we recognize ourselves as earthlings, the sooner we'll get along," Stott said. "If I can do it, anyone can."
—
For more information or news tips, or if you see an error in this story or have any compliments or concerns, contact [email protected]