How racism between women is holding feminism back
Activist Dorothy Pitman Hughes speaks at UNF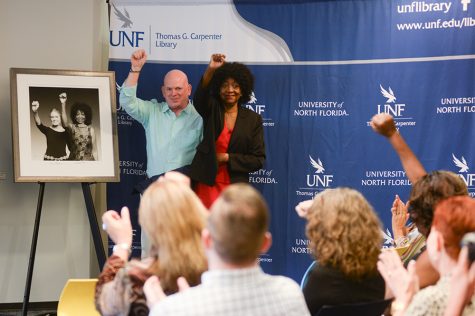 Racism, sexism, and the unspoken racism between women are the intense topics covered Wednesday at a Women's History Month luncheon with activists Dorothy Pitman Hughes and Judi Herring.
The two of them, a well traveled duo seeking change across the nation, have worked together for over 10 years spreading the message of destroying racism, sexism and classism, Hughes with an even longer history of activism.
They are exploring the challenging topic of what is holding feminism back.
"A hundred years of the suffrage movement has not yet yielded the goals that feminists have been working towards and one would wonder: what is the reason for that," Herring said. "It is the racism between women that's standing in the way of women working as a unified group, and until we acknowledge and resolve the racism between multicultural groups of women, we can't move forward, we won't be able to dismantle the patriarchy."
They discussed how there's an imbalance of race representation when women activists speak. Herring used a metaphor of building a house. You can have 60 carpenters but only two roofers. The house will be functional for a while, until it rains.
"We have to be able to become sisters," said Hughes.
After the luncheon, the two will be accepting questions from those in attendance. They hope to have challenging discussions with different perspectives about the uncomfortable topic.
"This is the first time we've put this topic on the table," said Herring. "UNF is a place where there's the spirit and the heart to tackle it."
"We intend to change things," said Hughes.
—
For more information or news tips, or if you see an error in this story or have any compliments or concerns, contact [email protected]