Women Veterans: Making a difference for future generations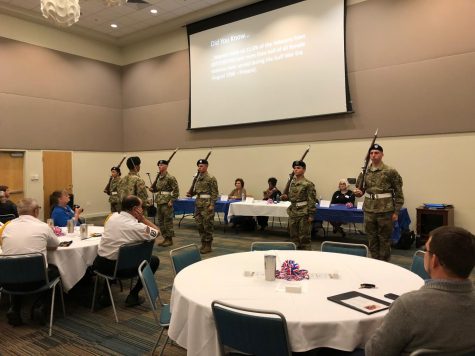 In honor of women veterans everywhere, the UNF Military and Veterans Resource Center hosted an event to talk about the history, major accomplishments, and issues facing veterans on Tuesday.
Taking part in the event was UNF's ROTC drill team and color guard.
The event began with Director of Military and Veterans Resource Center Bob Buehn and Coordinator Diane Stover welcoming the guest speakers, Virginia Wygonik, Linda Connelly, Michelle Poitier, Charlotte Blanding, Laura Hoffman, and Amanda McGhee.
Before the guest speakers told their stories, Founder and Executive Director of Northeast Florida Women Veterans (NFWV) Deloris Quaranta talked about her experience and problems in society.
Quaranta retired from the U.S. Air Force after serving twenty years. She said one problem in society today is the lack of conversation about women veterans. To combat this, she helped start women's veterans recognition week five years ago.
"There are two unique needs of women veterans," said Quaranta.
The first is to celebrate accomplishments, and the second is raising community awareness of issues veterans face. Quaranta mentions homelessness as one of those issues.
Quaranta also talked about equal opportunity. She said, "The service available to veterans should be equal regardless of gender."
Guest speaker and Korean War veteran, Virginia Wygonik, then talked about her experiences. Wygonik enlisted in 1952 when she was just 19.
"I became an adult that day," Wygonik said. She joked that even though she is now 85, she is still "ready, willing, and able" to serve.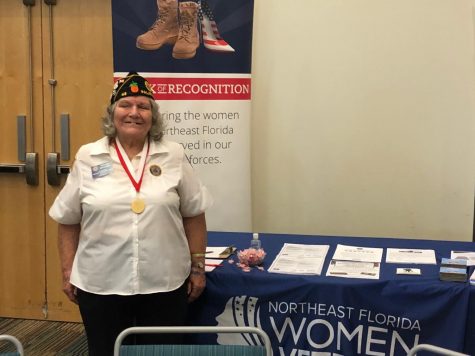 Tears came to her eyes when she spoke about struggles that stretched beyond gender. She told a story about a young black woman she befriended during her time serving, but just like the discrimination between men and women, there was racial discrimination that forever separated Wygonik from her friend.
She said, at first, she was also denied the chance to go to Korea, because the men who wanted to go were given priority, and the woman were used to take the place of the men.
A major issue for Wygonik, and many of the other women veterans who attended the event, was getting acclimated into society following the Korean War.
UNF Assistant Nursing Professor Linda Connelly is a retired army nurse, and said it also took some time for her to get use to society again.
Another guest speaker, founder of Healing Women Healing Nations and USN veteran Michelle Poitier, believes a main issue for women veterans is "their inability to sustain employment and relationships" upon their return.
She said it took almost 10 years for her to completely get acclimated into society again. However, she believes women have an innate ability to adapt.
Poitier wants to be a "voice for the voiceless, defender of the defenseless, and provide hope to those without hope."
Poitier agrees that some issues that need to be addressed is homelessness and PTSD (from metal, physical, or even sexual trauma). Additionally, she thinks there needs to be a personal balance mentally, physically, and spiritually.
Poitier continues to make a difference for women through Healing Women Healing Nations, which has the goal of engaging with, educating, and empowering women.
Charlotte Blanding said she had to stand up to her father, who originally didn't want her to serve, but later believed her decision was the best thing she could have done. Blanding only wishes she had a support system to help her in times of need. She hopes to be that support for other women.
Marine corps veteran Laura Hoffman was the first person in her family to serve since WWII. Hoffman was an aviation communication technician, and said she was the only female in her electronics classes.
Hoffman ended up being discharged for mental health reasons, and finds it important to help others realize that mental health is just as critical as physical health when serving your country.
The final guest speaker, Active Duty Marine and UNF student Sgt Amanda McGhee said her initial reason for enlisting was to get away and start something for herself. She also finds balancing one's personal life and their service to be important in maintaining mental health.
These women continue to show their support for veterans everywhere on a day to day basis, and are living examples of how women can make a difference and be a positive influence on society.
—
For more information or news tips, or if you see an error in this story or have any compliments or concerns, contact [email protected]