National Crime Victims' Rights Week: Know Your Resources
In order to raise public awareness regarding crime victims' rights and resources, the Office for Victim Crimes honors National Crime Victims' Right Week on an annual basis.
This year, the observed theme for the week of April 8 through the 14 is "Expanding the Circle: Reaching All Victims."
According to the OVC, this theme "emphasizes the importance of inclusion in victim services… [and] addresses how the crime victims field can better ensure that every crime victim has access to services and support and how professionals, organizations, and communities can work in tandem to reach all victims."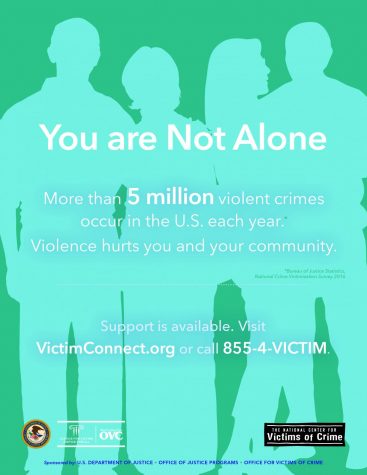 The OVC has reported that 80 percent of college-occurring crimes take place on campus. Such victimization can reportedly cause long-standing physical, emotional and psychological effects on the victims themselves, as well as on the surrounding community of faculty, staff and students.
So what resources are available for those at UNF who may fall victim to crime?
According to Director Sheila Spivey of the Women's Center, the Victim Advocacy Program is an important resource to the UNF campus, and it's not just for students.
"The Victim Advocacy Program provides 24-hour confidential crisis intervention services to any member of the UNF family- students, faculty, staff- impacted by crime or violence," Spivey explained. "The program assists individuals in exploring options available and understanding their rights. Reporting to law enforcement is not required to secure services."
The program is intended to help victims through various stages of finding help and recovery.
The program also offers a variety of services, including safety planning, crisis intervention support, information on rights and options, referrals to campus department and community organizations, accompaniment and assistance navigating the criminal justice system and student conduct process, and more.
Spivey also noted that the UNF Victim Advocacy Program offers a 24-hour Crisis Helpline to assist in meeting the needs of crime victims after-hours, which can be reached at (904) 620-1010.     
The Victim Advocacy Program is located in Founders Hall, Building 2 Suite 2100, available  Monday through Friday from 8 a.m. to 5 p.m. Appointments are not required. The University of North Florida Police Department (UNFPD) also offers a complete directory of help for victims of crime and sexual misconduct.
—
For more information or news tips, or if you see an error in this story or have any compliments or concerns, contact [email protected].