Staying on Target: Archery 101 Workshop
If you didn't already know, you can participate in a pretty unique activity at Eco Adventure. During an Archery 101 workshop, students spent some time in the great outdoors to test their skills with a bow and arrow.
Justin Hites, Environmental Education Ranger at Eco Adventure, was impressed at the turnout of for the archery workshop, saying that not as many students have come to the past few ones. Hites got right into instruction by teaching students some basics, like how to properly put the arrow on the bow and various shooting techniques (the trick is to aim lower at the target).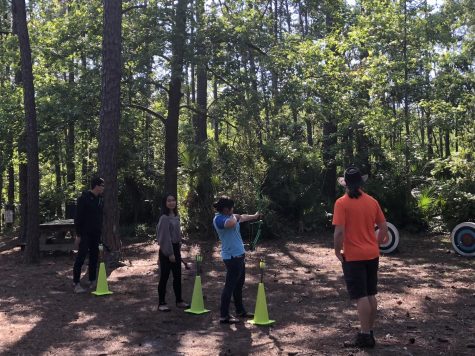 After some practice rounds, the workshop went into a tournament style game with an objective to shoot the arrow closer to a center target with each try. Several rounds passed, and Hannah Miners, a sophomore student majoring in Spanish International Studies, was crowned the winner.

Having previously lived in Illinois, she has a few years of archery experience under her belt from practicing in the country. As a kid, Miners would set up a target in her backyard and fire away.


Winning or not, this activity felt just like summer camp. Justin Hites, environmental education ranger at Eco Adventure says that he teaches archery to the kids to come to the camps at Eco Adventure. They even sometimes venture to the woods to find lost arrows from past workshops. If an arrow flew out of sight, Hites assured that a kid this summer would find it during camp.

This activity brought students together who were looking to finally pursue that dream of being an archer after seeing Brave once. If you don't relate, it was still a way to get outdoors and have some fun.

Miners enjoys the sport itself and as a way to stay involved on campus.


"I like to be as involved as I can with UNF activities," says Miners. "I invited the English Language program students just to have the international students try something new."

Whether you're a beginner or Katniss Everdeen, this Eco Adventure workshop is available to Ospreys who wish to stay on target with their archery skills.

[embedyt] https://www.youtube.com/watch?v=OeRbhALdBQE[/embedyt]

—

For more information or news tips, or if you see an error in this story or have any compliments or concerns, contact [email protected].