The UNF Chamber Singers bring harmony to the Baltics
[embedyt] https://www.youtube.com/watch?v=Gur8exW5MTU[/embedyt]

Video by Carly Kramer

The UNF Chamber Singers go on tour every other year in order to travel, perform and represent the UNF School of Music around the world. On April 28, UNF's most selective vocal ensemble will be embarking on their next tour overseas in Estonia, Latvia and Lithuania.

According to Cara Tasher, choral director of the UNF School of Music, the specific repertoire for the trip was chosen as part of the ensemble's "American Celebration of Music in the Baltics."

"We've been doing a lot of soul searching and identity searching, 'strength and unity' kind of stuff this year," Tasher said. "And we've chosen American and representative pieces of those countries that kind of flowed together harmoniously."

While overseas, the Chamber Singers will partner with other choirs, as well as participate in festivals such as the "Kaunas Cantat" International Choir Festival and Competition in Kaunas, Lithuania.

Preparing for the trip has been a well-rounded effort on the part of the entire ensemble, according to UNF music education juniors Allie Pecararo and Megan Hines.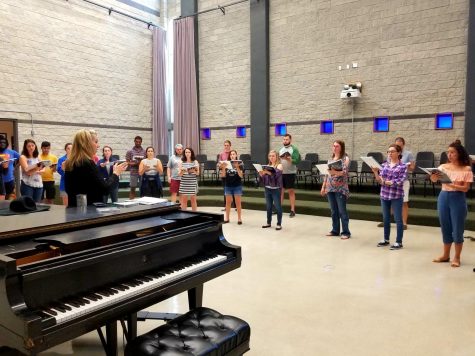 "We have had rehearsals twice a week to learn the musical material for the tour," Pecoraro said. "But plenty of work was done outside of class time whether it be reviewing music, or researching the culture and history of the countries that we are visiting."
According to Hines, who also acted as assistant conductor of the Chamber Singers, the process of grasping the various languages further enforced the cultural experience meant to be expressed in the music.
"Dr. Tasher put a lot of effort into connecting with native speakers of the Baltic languages, who were nice enough to make recordings for us, so we've been practicing our languages and key phrases during rehearsal," Hines said.
But unity among cultures isn't the only value that students are taking away from this experience. Many also see the trip as an opportunity to both strengthen their musicianship skills as well as their friendships within the ensemble, particularly for those who are touring as part of their final goodbye to UNF.
"This stands to make us so much better and closer as an ensemble, and I look forward to this opportunity," Will Kelly, senior music performance major said. "It really makes you not only a better musician, but a better person overall. That is an experience that no one can take away."
—
For more information or news tips, or if you see an error in this story or have any compliments or concerns, contact [email protected]