Who is UNF's new president?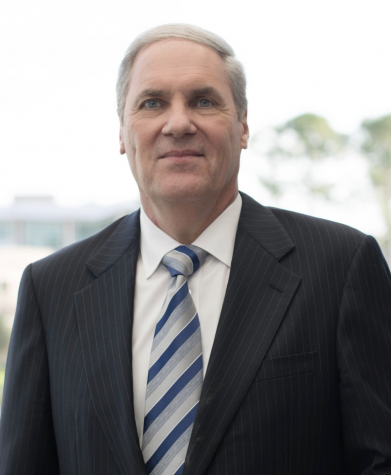 UNF has had a crazy year—what with various controversial issues and the added pressure of finding a new UNF president to replace John Delaney. In the end, the Board of Trustees and Board of Governors chose David Szymanski to fill in as the sixth president of UNF.
Spinnaker has written countless articles on the search and Szymanski himself, and this won't be the last article we write on him, either.
That being said, we know Szymanski has been a dean and professor of marketing at the University of Cincinnati, and we know he has served as the former Vice President of Business Affairs. However, there is more to our new president than what he achieved professionally; like anyone else, he has a life with a family.
Szymanski is the father of three already-grown children. His oldest daughter is a professor in marketing and the mother of a 5-year-old girl. His other daughter is a pharmacist and his recently-married son was a former punter for different NFL teams, such as the Kansas City Chiefs and the Miami Dolphins.
Szymanski has also spoken very dearly of his wife Maria, whom he met as an undergrad at the University of North Carolina-Asheville. They were married a week after their graduation, and both share a continuing passion for education. Maria enjoys teaching elementary school but has recently been acting as a substitute teacher whenever the opportunity arose. Whether or not she will continue teaching when she arrives in Jacksonville is still in question.
Szymanski jokes about his lack of free time since the responsibility of being president is a commitment that can take over one's professional and personal life. In the rare case of free time, he enjoys spending time with his family and wife, affirming how "it's an important thing for [me]."
Outside of his passion for education, Szymanski also enjoys looking at old cars and watching sports. For instance, he has reportedly kept his grandfather's car from 1972 and, surprisingly, the car only has around 21,000 miles. Szymanski has stated he is thinking of bringing it down to Jacksonville with him.
As for sports, Szymanski is a fan of a variety of sports, like your usual football and baseball; however, Szymanski is particularly passionate about basketball and tennis because he was a former college athlete for both of these sports.
As the president of UNF, Szymanski says he wants to create opportunities for both the students and faculty, as such opportunities are how he went from being a first-generation college graduate to the president of our college institution.
"You see possibility and opportunity, and then work to do that," Szymanski said. "It's not a straight line."
In order to do that, Szymanski wants to include time for UNF students. Dependent on his busy schedule, Szymanski has expressed a desire to have lunches with students to hear their voice and get to know them more personally; he has even gone on to say that students can invite him to campus events and that he will try to attend them whenever he can.
"It's about the students and their experience to make them phenomenal," Szymanski said. "It's always been about the student and what we can do."
—
For more information or news tips, or if you see an error in this story or have any compliments or concerns, contact [email protected]