'Ant-Man and the Wasp' won't be squashed by Marvel heavyweights
Andy Moser, Features Editor
July 6, 2018
In a few ways, the Ant-Man saga feels different from the majority of films currently making up the Marvel Cinematic Universe, or MCU.
For one, its emphasis on comedic elements is rivaled only by Guardians of the Galaxy and Thor: Ragnarok. Light-hearted banter and timely jokes keep the overall tone of Ant-Man and the Wasp distinctly bubblier than, say, Captain America and The Avengers films. Not that heavier themes are always a drag on comic book movies, but so far, they've tended to work best when you can tell the heroes on screen are having fun.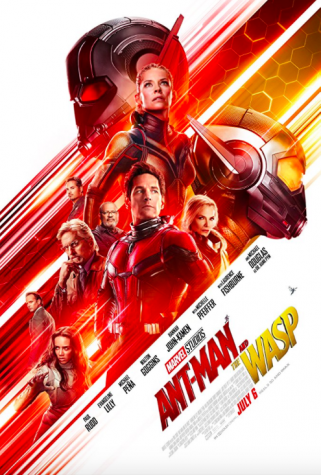 As another distinction, this Ant-Man sequel is refreshing in the way that it doesn't take any interest in the fate of the free world. Instead of some gargantuan force that threatens countless lives, we have our heroes, Scott Lang (Paul Rudd) and Hope Van Dyne (Evangeline Lilly), Ant-Man and the Wasp, respectively, fighting much smaller-scale battles that resonate on the same level of urgency as Thanos wiping out half the universe's population.
Van Dyne is looking to build on her father's (Michael Douglas) size-altering technology and research to find her long-lost mother (Michelle Pfeiffer) in what's known as the quantum realm—a hypochondriac's nightmare of a world where one is so infinitesimally small that bacteria and microorganisms are comparatively mountain-sized. In order to find her, however, she needs Lang, the only person to ever travel to the quantum realm and return. Lang, however, still on house arrest (for reasons explained by Captain America: Civil War), must help in whatever way he can without getting caught by the FBI, which would completely remove him from his young daughter's life.
Of course, there are other threats that need handling. There's Sonny Burch (Walton Goggins), a shady black market dealer who becomes entangled when Van Dyne seeks to purchase a piece of hard-to-find tech from him. More interestingly, there's Ava (A.K.A. "Ghost") (Hannah John-Kamen), a shadowy adversary whose abilities allow her to phase through matter. Her powers come at a cost, though. As she says, the cells in her body are constantly tearing and repairing, leaving her in constant pain. Her condition is the result of an experimental accident, spurred on by a betrayal linked to Van Dyne's family.
While Ava is a compelling and well-rounded antagonist, Sonny feels excessive and makes the film perhaps more crowded than it needs to be, contributing to a two-hour running time, which is arguably the Marvel standard. But it still slightly overstays its welcome, and the jokes aren't quite enough to get you through.
Still, Ant-Man and the Wasp is sure to be a roaring crowd-pleaser and a good time for anyone in search of a light and airy popcorn flick. The Marvel faithful will know to stick around for the end-of-credits scenes, which stunningly, if a bit annoyingly, tie it in to the events of Avengers: Infinity War, and the ever-growing MCU.
Sails: 4/5

—
For more information or news tips, or if you see an error in this story or have any compliments or concerns, contact [email protected]