UNF Men's Basketball 2018-2019 schedule released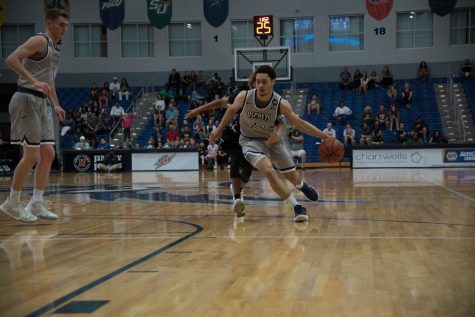 According to UNF Athletics on Monday, July 16, the UNF Men's Basketball 2018-2019 schedule has been released.
November:
The Ospreys' first game of the season is an away game on November 7 against Dayton. After that, they fly east to Happy Valley where they take on Penn State on November 9.
UNF returns back to their home court on November 14 against Edward Waters.
The Ospreys then embark on a four-day tournament as part of the Cancun Challenge.
UNF plays at Dayton on November 17 and after fly south of the border to play two games in Cancun against Southern Mississippi on November 20, and either Jacksonville State or Western Carolina on November 21.
After the Cancun Challenge, the Ospreys head down to Gainesville to play the Florida Gators on November 27. UNF comes back home on November 29 against the Florida A&M Rattlers.
December:
The Ospreys then embark on a road trip when they play Charleston Southern on December 1, Minnesota on December 11 and FIU on December 13.
Two weeks after the Ospreys play Charleston Southern, the Buccaneers head down to Jacksonville to oppose the Ospreys again on December 15.
UNF takes on two more Power Five teams on the road: Florida State on December 19 and Auburn on December 29.
January:
The Ospreys' final non-conference game is January 2 at home against Florida National.
The Ospreys then kick off their conference schedule at home when they play North Alabama on January 5.
UNF then heads up to Nashville to take on last season's ASUN Tournament winner, Lipscomb, on January 9.
The Ospreys travel back home to host Florida Gulf Coast on January 12. UNF makes the hour and a half trip south to play Stetson on January 16 and after that, they fly up to Lynchburg, Virginia to play Liberty University on January 19.
The Ospreys then come home to play NJIT on January 21 and Jacksonville University on January 24. UNF goes on the road to play Florida Gulf Coast on January 27 and Kennesaw State on January 30.
February:
Finally, UNF starts February off by hosting Lipscomb on February 6.
Then, the team heads to Florence, Alabama to play North Alabama on February 9.
The Ospreys play a quick home match up against the Kennesaw State Owls on February 13 before embarking on a road trip to play NJIT on February 16 and Jacksonville on February 20.
UNF finishes the regular season by taking on Liberty on February 23 and Stetson at home on February 26.
—
For more information or news tips, or if you see an error in this story or have any compliments or concerns, contact [email protected]