'Mission: Impossible – Fallout' dazzles with epic real-life stunts
Possible. That word's threshold is rarely ever pushed and stretched to its potential the way it is when it comes time to make another Mission Impossible movie. Fallout, the sixth entry in the series, takes action to dangerous extremes, and the result is a jaw-dropping cinematic experience.
It's as if writer/director Christopher McQuarrie (who is now the only person to direct two M: I films) begins his process by wondering: how much danger can we put Tom Cruise in to make a movie this time? These two are out of their minds, and moviegoers everywhere should be grateful for that.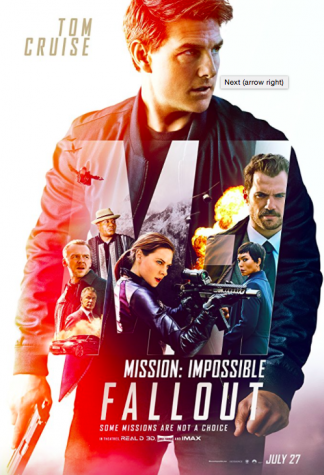 Fallout extends directly from its predecessor, Rogue Nation (2015), playing off of story elements that set the table for this round of adventure. Agent Ethan Hunt (Tom Cruise) is tasked with cleaning up a threat from the remnants of a terrorist organization after being personally responsible for the capture of its leader, Solomon Lane (Sean Harris), in the prior film. Of course, complications and betrayals get in the way to hike up the stakes and increase the sense of urgency.
Who can Ethan really trust in all of this? It can be difficult to follow the subtleties of the plot. Everything moves at break-neck speed, and you may need a moment to determine the various parties, what their interests are, how they shift throughout the film, and who is really on who's side. You don't always get that moment, so my recommendation is to focus on the basics and everything will come together just fine.
The action set pieces may be an opportunity to put the narrative pieces together, but they're so utterly fascinating that you won't feel compelled to do anything except sit there and be amazed. They're filmed practically. They're authentic and stunningly filmed at the highest difficulty level possibly ever attempted. In one awe-inspiring scene, Hunt executes a HALO (High Altitude, Low Opening) jump from an airplane flying at 25,000 feet. The scene is filmed in one take which, according to this behind-the-scenes featurette, took over a hundred jumps to get right. And if you were wondering, yes, that's really Tom Cruise plummeting to the earth that you're watching.
Cruise has made it his staple (or his mission, you could say) to perform all of his own stunts. This means that if your director's story involves your character partaking in a treacherous helicopter chase through mountainous terrain, you're signing up for pilot school, buddy! Indeed, that's exactly what Cruise did. He took the classes and logged the 2,000-plus hours required to pilot a helicopter, and he did it. Not only did he do it, but he also executed a 360-degree downward corkscrew turn by himself—all to entertain you and create a truly tangible action movie experience.
With the crew navigating such uncharted territory capturing all these stunts, it's ironic that Cruise managed to hurt his ankle and delay production on a mere leap from building ledge to building ledge! I use "mere" facetiously, of course, noting the relative ease of this stunt compared to others in the film. But, the truth is, they're all difficult. And dangerous. And real. McQuarrie and Cruise, surely, would settle for nothing less.
The fight sequences are smooth and coherent, expertly handled by the coordinators, as well as the actors. Rebecca Ferguson, returning as agent Ilsa Faust, makes it for many of these exhilarating scenes and adds an interesting element to the overall effort.
The amount of work put into this movie is phenomenal and reminds us of the value practical effects and stunts continue to add to cinema. Fallout is a high-speed adrenaline rush that refuses to sacrifice narrative strength. You'll be breathless at the conclusion of its two-and-a-half-hour running time, but you'll be glad you got lost in the adventure.
Your mission, should you choose to accept it, is to get down to the movie theater however you can to catch Mission: Impossible – Fallout and see the greatness McQuarrie and his talented team bring to the table.
Sails: 4.5/5


—
For more information or news tips, or if you see an error in this story or have any compliments or concerns, contact [email protected]