'Blindspotting' skillfully brings implicit bias to light
"You're a convicted felon now…until you prove otherwise. Prove otherwise at all times."
The above is a rough Blindspotting quote from a minor character that majorly captures the film's most prominent themes: image, perception and privilege. It comes from the head of a halfway house, where Collin (Daveed Diggs) has just arrived moments after his 11:00 p.m. curfew and is living out the final days of his probation.
His prior prison sentence resulted after assaulting a man outside of a bar one night, but there's much more to the story than that. Collin, a black man living in Oakland, got into a fight with a white bar-hopper while working as a bouncer. The unnamed white man had just walked out with his drink when Collin informed him he had to take it back inside. After refusing to cooperate and exchanging words, the two broke out into a fight, which was soon joined by Collin's friend Miles (Rafael Casal), a white man who arguably dealt the most vicious blows. Collin was the only one to receive punishment for the brawl.
Now just days away from freedom, Collin must be extra conscientious of his behavior for fear of how he'll be perceived while Miles consistently gets away with things Collin would be demonized for. Miles speaks in African-American Vernacular English, gets into fights and even pulls out a gun at a party and starts firing it into the air. In essence, he is the image that society is cautious of, just with a different skin color. So society gives him a pass.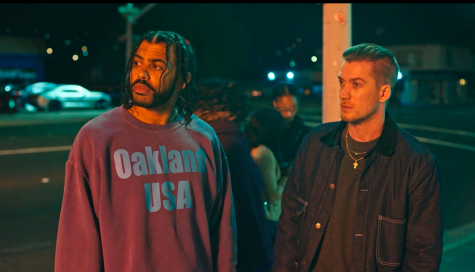 Diggs and Casal wrote this script together, and they brilliantly use Miles to reflect the societal double standard. While Collin is driving their company's moving truck with Miles in the passenger seat, Miles reaches over to incessantly beep the horn at a white person unloading his myriad of Whole Foods bags when his car is blocking their path. Their supervisor, Val (Janina Gavankar) later informs them that the company has received a complaint about a "black guy with dreads" beeping the horn and yelling at someone.
Miles doesn't realize the implications his actions have on Collin, and his antics often put Collin in a dangerous position simply because of their proximity to each other.
At one point, Collin even witnesses the senseless shooting of a black man by a white police officer, yet can't act, or even object, because of the precarious position he's in. This shooting haunts him to the point where he arguably has PTSD from it. Each morning, he wakes up and goes on a run that takes him through a cemetery, and he's constantly reminded of how easy it is for black men like himself to end up there for unjustifiable reasons. It's a poignant parallel representing the careful line Collin must navigate. Collin continually walks a tightrope; Miles is permitted a wide avenue. In Collin's words, he must present himself as "less blame-able."
Diggs and Casal inject plenty of humor within the heavy overarching thematic material. Blindspotting is often hilarious, and it serves as well-timed relief, even if the comedy occasionally rides the story off the rails.
In its discussion on racial identity and privilege, the film also lightly (perhaps too lightly) touches on the role of toxic masculinity in all of this. The things the characters get into physical altercations for are stupid. The inability to handle a bit of childish name-calling and other attacks on the male ego prove to be hugely damaging. In this way, Diggs and Casal show how various notable problems intersect.
Blindspotting is a smart and insightful look into racial double standards. The first sequence is literally a split screen showing what are, in actuality, the same things and how they are viewed differently by society based on the skin color each side is commonly associated with. It asks you to explore your own implicit biases that may influence your perception without fully realizing it. Because of that, Blindspotting is a timely, eye-opening wake-up call that should be seen by as many people as possible.
Sails: 4/5

—
For more information or news tips, or if you see an error in this story or have any compliments or concerns, contact [email protected].