Jacksonville Beach City Council moves forward with plans to potentially close some restaurants at midnight
Residents and business owners gathered at the Jacksonville Beach city hall on Wednesday, Aug. 8, to watch the city council unanimously approve a proposal to explore a change to the city's alcohol ordinance. The ordinance would reportedly close restaurants with SRX licenses at midnight instead of 2 a.m.
SRX, or special restaurant exemption licenses, allow restaurants to serve beer, wine and liquor and cost approximately $1,500, according to a statement distributed to Jacksonville Beach Police Chief Patrick Dooley. 4COP, or "quota" licenses on the other hand, allow establishments to serve beer, wine and liquor without food. There are 12 4COP licenses in Jacksonville Beach, and they vary in cost between $200,000 to more than $400,000, depending on the market.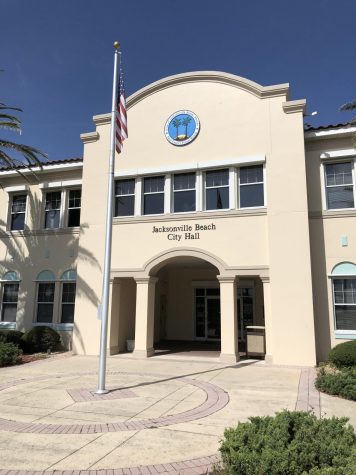 The proposal to close SRX license holders early centers around the disproportionate cost of the license and the insurance required when compared to 4COP license holders. The mayor and police chief said that because 4COP-licensed establishments have more money invested, they have a higher incentive to regulate their bars properly. If they lose their license, they can't sell alcohol and they are out of business. SRX license holders in the same situation could still sell food without alcohol and remain in business.
Jacksonville Beach Mayor Charlie Latham said that because SRX license holders have less incentive to properly secure and regulate their businesses, the majority of the problems police deal with stem from restaurants rather than bars.
At the meeting, Chief of Jacksonville Beach Police, Patrick Dooley, showed a video compilation of disturbances in Jacksonville Beach's central business district that occurred after midnight as evidence that there is an ongoing problem in the area. The video, much of which was filmed by police, included clips of huge crowds outside both 4COP bars and SRX restaurants in line and leaving after closing time, an intoxicated woman covered in vomit, and several fights, including the spat that Atlantic Beach rapper Leon Bennett was involved in minutes before he was gunned down.
In one clip, the filming officer is distracted from a fight outside the Metropolitan parking garage by not one, but three different women publicly urinating inside the garage within plain view. When the officer confronted one of the drunken urinators, she belligerently challenged that he was even a police officer before being whisked away by her nearby friends.
The workshop allowed for ten total commentators, five opposed to the proposal and five in support. Five business owners and representatives spoke in opposition to the proposal while only three spoke in favor.
"This will put us in a situation where we go through the standard two-meeting process. The public would be allowed to speak and everybody would get a copy of the ordinance before the council meeting," Latham said.
Shortly after Latham spoke, a unanimous vote was collected from the city council to move forward with the proposal to modify the existing ordinance.
The city council has not announced the dates of the meetings to follow.
—
For more information or news tips, or if you see an error in this story or have any compliments or concerns, contact [email protected].